Non-Isolated VRM provides up to 45 W of power.
Press Release Summary: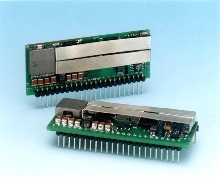 Suitable for power regulation applications using microprocessors, DSPs or bus drivers, PTK6700 Series accepts inputs of 3.3, 5, or 12 Vdc and provides single outputs that are 5-bit digitally programmable from 1.3 to 3.5Vdc. VRM has 13 A/45 W output power yet no external components or heatsink are required over ambient temperature range of -40 to +70°C. All models contain short circuit protection and remote sense/power good indication signal.
---
Original Press Release:

Programmable 13 Amp Output VRM, No Heatsink Required


FEATURES
* 3.3V/5V/12VDC Inputs
* No External Components Required
* 13 Amps/45 Watts Output Power
* No HEATSINK Required
* Programmable Outputs from 1.3 to 3.5VDC
* Industry-Standard SIP Packages

Targeted to power regulation applications utilizing microprocessors, DSP, and bus drivers, ASTRODYNE announces the PTK6700 Series of non-isolated VRMs that provide up to 45 Watts of output power. Packaged as a space-saving SIP configuration, The PTK6700 Series accept inputs of 3.3, 5, or 12VDC and provide single outputs that are 5-bit digitally programmable from 1.3 to 3.5VDC. All models in the PTK6700 Series contain short circuit protection and a remote sense/power good indication signal. Transient Response: Settling times of 70 µSec with less than 100mV under/overshoot. The PTK6700 Series does not require the addition of external components for proper operation and all models are pinout and size compatible to similar type VRMs. In addition, the PTK6700 Series utilize unique on-board heat exchanger technology to eliminate the need for large-body heatsinks and will operate over the ambient temperature range of -40 to +70°C without forced air cooling or output power derating. Models are available with either vertical or horizontal SIP mounting styles to accommodate multiple applications. For more detailed information contact us on our Web Site www.astrodyne.com

Prices start at $8 in OEM quantities. Delivery is Stock to 4 Weeks ARO


More from Packaging Products & Equipment