DC to DC Power Supplies (Converters)
Non-Isolated DC/DC Converters offer output currents up to 120 A.
Press Release Summary: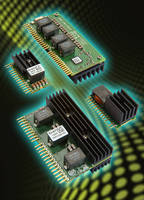 Featuring efficiencies up to 95%, VRPx Series single inline package footprint POL converters are available as 30, 90, 100, 110, and 120 A modules. Vertical and horizontal mount units can deliver from 3-120 A of output current and operate over input range of 4.5-13.8 V, with output voltage trim range of 0.5-5.1 Vdc. Converters switch at fixed frequency of 400 or 500 KHz and include differential remote sense as well as under-voltage lockout and output overcurrent/short-circuit protection.
---
Original Press Release:

Bel Power Expands Offering of Non-Isolated DC/DC Converters to Include Modules with Output Currents up to 120 A.



New SIP Footprint POL Parts Boast Efficiencies to 95%

Westborough MA - Bel Power, a division of Bel Fuse Inc. (NASDAQ: BELFA & BELFB), announced the expansion of their VRPx Series of SIP (single inline package) footprint POL (point-of-load) converters to include 30A, 90A, 100A, 110A and 120A modules. These non-isolated DC/DC converters are the latest addition to Bel Power's portfolio of SIP converters that now comprise vertical and horizontal mount parts capable of delivering 3A to 120A of output current. Operating at efficiencies of up to 95% over a wide input range of 4.5V to 13.8V, the cost-effective, open-frame series offer an ultra-wide output voltage trim range of 0.5 Vdc to 5.1 Vdc. The fixed frequency devices moreover feature an integrated heatsink to maximize usable power density.

Notably included in the series are step-down DC/DC converters boasting an IMON pin for output current monitoring and parts with a Power State Indicator (PSI#) pin for phase dropping and higher efficiency during light-load states. Step-down DC/DC converters, compatible with Intel VRM11.1 requirements, are also provided. Components are designed to meet worldwide standards for safety and performance and are RoHS EU Directive 2002/95/EC-compliant.

Engineered for a broad array of PC board mounted power applications, the POL modules' SIP package enables their use in almost any space-constrained application in which a 12V power source is available. The VRPx Series' competitive pricing and compact size make Bel Power's newest DC/DC converters ideally suitable for employment in such networking and telecommunications equipment as servers, workstations, computers and peripherals.

Boasting a remote on/off pin, low ripple current and differential remote sense, the VRPx Series' components switch at a fixed frequency (400KHz or 500KHz module dependent). They moreover incorporate control and protection features including input under-voltage lockout, output over current/short circuit protection, 2-, 3-, or 8-bit VID (Voltage Identification Digital), and a power good signal.

For more detailed information on the Bel Power SIP VRPx Series, visit
http://www.belfuse.com/ProdList-PowerProds.asp?pPrLinID=1&pPrLin=Power Products&pCat=POL Converter&pSubCat=PowerSIP

In production quantities, per-piece pricing for the VRPx Series of non-isolated DC/DC converters is $9.35 and $17.20, for the 30A and 90A modules, respectively. Parts featuring outputs of 100A, 110A and 120A are priced at $18.35 each. Samples and production quantities are available from stock with lead times of up to 12 weeks. To locate a representative, visit belfuse.com/BelPower/FindARep.asp, or to find a distributor, visit http://belfuse.com/BelPower/DistributorList.asp.

About Bel

Bel (www.belfuse.com) and its divisions, including Bel Power, are primarily engaged in the design, manufacture, and sale of products used in networking, telecommunications, high-speed data transmission, commercial aerospace, military, transportation, and consumer electronics. Products include magnetics (discrete components, power transformers and MagJack® connectors with integrated magnetics), modules (DC/DC converters, integrated analog front-end modules, custom designs), circuit protection (miniature, micro and surface mount fuses) and interconnect devices (micro, circular and filtered D-Sub connectors, passive jacks, plugs and high-speed cable assemblies). The Company operates facilities around the world.


Related