Non-Intrusive MV Couplers negate blackouts, grid disconnections.
Press Release Summary: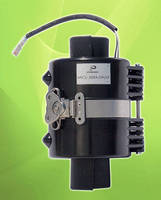 Supporting PRIME and G3 PLC (power line communications) networking standards, MICU-300A OH/LF series feature >24 kV insulation and are suited for installations in outdoor bare overhead power lines. Water-resistant (IP67) solution supports CENELEC band up to 150 kHz (Europe) and FCC (USA), which permits use of frequencies <500 kHz for narrow band PLC. These series are customized for Maxim G3 PLC modems and compatible with Enverv PLC modem Chipsets.
---
Original Press Release:

Non-intrusive MV Couplers for Installations in Outdoor Bare Overhead Power Lines



New MICU-300A OH/LF series offers high insulation >24kV and supports PRIME & G3 PLC networking standards.



Power line communications (PLC) is a global technology that is gaining interest worldwide due to the wide availability of power distribution lines. In smart grids inductive couplers are playing a big role as it transmits the communication signals between power line and PLC data transceiver without introducing any new wires or cables; being a competitive solution compared with capacitive coupling.



PREMO has developed a new high current MV inductive coupler solution, MICU-300A OH/LF series, that is highly recommended for installations in outdoor bare overhead power lines as it offers high insulation >24kV. This compact, water-resistant (IP67) and weightless solution is fully compatible with mature and consolidated PRIME PLC standard and G3 popular standard, managed by the G3-PLC Alliance. The new series supports CENELEC  band (up to 150 kHz) (Europe) and FCC (U.S.), which permits the use of frequencies less than 500 kHz for narrow band PLC.



MICU-300A OH/LF series is made with high permeability and high performance materials that avoid saturation problems at high currents allowing larger distances between PLC communication equipments located in different MV transformer stations. This helps to increase the broad-band and to improve communication efficiency as it offers low insertion losses 12dB±2dB (@100-250kHz); 5dB±2dB (@250-600kHz).



MICU-300A OH/LF is an easy-to-install solution with waterproof (IP67) connector integrated in the coupler that helps to save time during installation. Other connections are available under request.



By means of using this non-intrusive solution, blackout or grid disconnections are avoided.



MICU-300A OH/LF cost effective solution is suitable for applications like automation of electric power distribution system, power line monitoring system, AMR (Automatic meter Recording), etc. The series has been customized for Maxim G3 PLC modems and is also compatible with Enverv PLC modem Chipsets.



PREMO offers evaluation kits to test this high reliability solution.



• Download MICU-300A OH/LF datasheet.

• Download MICU-300A OH/LF Installation guide

• Request information about this product: info@grupopremo.com

• Check PREMO´s PLC Components product range.



PREMO is a Spain-based company engaged in the development, manufacture, and sale of electronic components with special focus on the growing market of H&EV, Smart Metering and market segments including automotive, telecommunications, and industrial electronics. Our product portfolio includes NFC & RFID antennas (worldwide leader), power transformers, inductors & chokes, current sensors, EMC filters, PLC components and accessories. In addition to our broad range of standard components, off-the-shelf products, PREMO designs custom solutions to fit customer requirements.



For further information you can always contact:



Communication Department:

Rocío Arrupe

Rocio.arrupe@grupopremo.com



PREMO Headquarter

Severo Ochoa 33

Parque Tecnológico de Andalucía, Campanillas

Málaga, España

T.: +34 951 231 320 

F.: +34 951 231 321

E.: rocio.arrupe@grupopremo.com

W.: www.grupopremo.com

More from Controls & Controllers