Non-Incendive Barrier Module isolates analog and discrete signals.
Press Release Summary: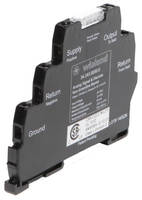 By providing electrical barrier between control devices and equipment installed in hazardous (Class 1, Division 2) environments, fuse-protected ASD-NIB Series minimizes risk of ignition on load side. This enables standard wiring practices to be used for in-field connections and eliminates need for explosionproof enclosures/conduit. At 6.2 mm wide, this non-incendive, CCSAUS-approved barrier module connects single-channel analog or discrete signal wires from 24–12 AWG.
---
Original Press Release:

Wieland Electric Non-Incendive Barrier Modules Provide Isolation for Analog and Discrete Signals



Fuse-protected ASD-NIB Series rated for Class 1, Division 2 locations…



ONTARIO, CANADA – Wieland Electric Inc., a leading global manufacturer of innovative electrical interconnect technology, has developed a single-channel non-incendive barrier module for analog and discrete signals, enabling engineers to eliminate the need for explosion-proof enclosures and conduit in Class 1, Division 2 environments.



The ASD-NIB non-incendive barrier minimizes the risk of ignition on the load side of the module by providing an electrical barrier between control devices and equipment installed in hazardous environments. This enables standard wiring practices to be used to connect to end devices in the field, eliminating the need to install expensive explosion-proof enclosures and conduit.



This new barrier brings several improvements to Wieland's existing line of non-incendive barriers. "With a single part number for almost every signal type, and the lowest insertion loss in the industry, the 6.2mm package reduces the footprint in the control cabinet and protects both the supply and return signals. Clear labeling and LED indication are also added to reduce incorrect use while making field troubleshooting simple" said Steven Hughes, industry sector specialist for energy at Wieland Electric. "The ASD-NIB Series demonstrates Wieland's proven leadership and experience in the field of non-incendive technology."



The ASD-NIB is CCSAUS approved, 6.2mm wide and designed to connect single-channel analog or discrete signal wires from 24 – 12 AWG. It has a nominal rating of 24VDC/35mA. LED indicators on the module signal either normal operation (green) or a fault condition on the output (amber). An internal thermal fuse opens the output when the temperature reaches 75°C.



For more information about Wieland Electric's ASD-NIB Series modules, please visit http://www.wielandinc.com/en-us/products/circuit-protection. For all other inquiries about Wieland Electric, please visit www.wielandinc.com or call 1-800-WIELAND (1-800-943-5263).



About Wieland

Wieland Electric Inc., founded in 1910, is a leading global manufacturer of electrical interconnect technology products. Headquartered in Germany with a North American Operations Center and subsidiaries throughout the world, Wieland Electric has 2200 employees in more than 70 countries to service worldwide customers. Wieland provides solutions to the industrial & building automation, wind, solar, HVAC, and power generation markets.  Local inventory, value-added services and technical resources at the North American Operations Center support a national sales and distribution channel. Wieland is ISO 9001 certified.



Editor contact information:

Martin Lalonde

Application Engineering & Technical Support

Wieland Electric Inc.

(905) 829-6414

martin.lalonde@wieland-electric.com



More from Construction Equipment and Supplies