Noise Meter identifies potential source of hearing loss.
Press Release Summary: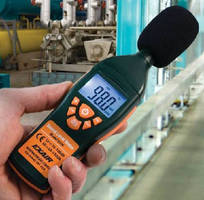 Digital Sound Level Meter can identify source of dangerously loud noise to help organizations keep noise levels below limits shown in OSHA Standard 29 CFR - 1910.95(a). Sound pressure measuring/monitoring device displays decibel readings on backlit LCD. Response time button provides choice of slow response measurements for stable noise measurement or fast for varying noise. Max Hold setting will measure maximum noise level and update continuously if louder sound is detected.
---
Original Press Release:

Sound Level Meter Identifies Potential Source of Hearing Loss



EXAIR's new Digital Sound Level Meter is an easy to use instrument that can measure and monitor the sound pressure level in a variety of industrial environments. Exposure to high noise levels for an extended period of time can lead to permanent hearing loss for workers who don't wear proper hearing protection. Companies can use the Digital Sound Level Meter to identify the source of dangerously loud noise, and then correct the problem so they can protect the workers, avoid hefty fines, and keep noise levels below the limits shown in OSHA Standard 29 CFR - 1910.95(a).

Accurate and responsive, the Digital Sound Level Meter measures the decibels of the sound and displays the reading on the large LCD display that has a backlight button for easy viewing. An "F/S" response time button provides a choice of slow response measurements for comparatively stable noise measurement or fast for varying noise. The "Max Hold" setting will measure the maximum noise level of sounds and update continuously if a louder sound is detected.

The Model 9104 Digital Sound Level Meter comes complete with a certification of accuracy and calibration traceable to NIST (National Institute of Standards and Technology), a hard-shell plastic case and battery. Price is $330.

For more information contact:
EXAIR Corporation
11510 Goldcoast Dr.
Cincinnati, OH 45249-1621
Phone: (800) 903-9247
Fax: (513) 671-3363
E-mail: techelp@exair.com
www.exair.com/slm.htm

More from Explosives, Armaments, and Weaponry