No More Soil, Odor, or Complaints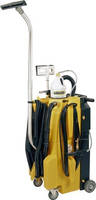 Perfect for cleaning educational facilities, the Kaivac 1250 is the most compact, lightweight, easy to maneuver and transport of all the Kaivac No-Touch® Cleaning systems.



But don't let its size fool you. The 1250 packs a powerful 500 psi pump and a heavy-duty three-stage vacuum motor plus it supports many add-ons and attachments so it can be used for a variety of cleaning needs.



The 1250 is designed for total soil removal. Expect sparkling clean restrooms, kitchens, stairwells, and more without ever touching a contaminated surface.



For more information, visit www.kaivac.com, or call 513-887-4600.



About Kaivac

Headquartered in Hamilton, Ohio, Kaivac, Inc., is the originator of the No-Touch® Cleaning system and manufactures a full line of No-Touch cleaning products aimed at making cleaning processes safer for people and the environment while preserving quality and cost-efficiency. For more information on the company and its products, call 800-287-1136 or visit www.kaivac.com.









More from Cleaning Products & Equipment