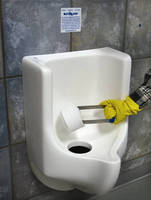 All Waterless Co. urinals come equipped with the unique EcoTrap trap/cylinder. This system fits at the bottom of the urinal and is designed to trap the natural sediment in urine, preventing it from building up in the plumbing system.

This helps protect pipes encrustations.

To keep the EcoTrap system working properly, apply a small amount of Waterless' BlueSeal liquid into the EcoTrap. The BlueSeal liquid floats to the top of the EcoTrap, trapping liquid and odors beneath it, making a completely sanitary, odor-free urinal-no flush needed.

For more information, visit www.waterless.com or call toll-free: 800-244-6364.


More from Optics & Photonics