Nilfisk Showcases Industrial Vacuum Solutions for Food & Beverage Processing Industries at ProFood Tech 2017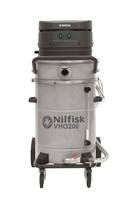 Morgantown, Pa. - March 31, 2017 - Nilfisk Industrial Vacuums will feature a variety of cleaning equipment for food and beverage processing industries at ProFood Tech 2017, Booth #1143. Nilfisk helps food manufacturing facilities meet Good Manufacturing Practices (GMPs) and global safety standards, comply with OSHA regulations and meet FDA, FSMA and USDA directives.
Product spotlights include:
NFPA 652 compliant vacuum solutions to meet recommendations for the safe collection of combustible dust
Continuous-duty industrial vacuum cleaners for in-process applications and portable production line maintenance
Wet/dry vacuums to simultaneously collect wet and dry debris
With Nilfisk industrial vacuum cleaners, manufacturing and processing facilities can easily and effectively clean in and around process equipment, while preventing cross-contamination on the production line. These advanced cleaning solutions meet industry and application specific food safety hazards and quality demands.
For more information, please visit https://www.nilfiskcfm.com/industries/food-beverage/.
About Nilfisk, Inc.
Nilfisk Industrial Vacuums, a division of Nilfisk, Inc., is one of the largest providers of cleaning equipment in North America. From its Morgantown, Pennsylvania, headquarters, Nilfisk Industrial Vacuums supports a complete line of industrial vacuums with exceptionally efficient, multi-stage filtration systems and user-friendly features. Nilfisk vacuums play a critical role in thousands of manufacturing facilities and industrial processes across North America. Supported by a direct sales force and an extensive dealer network, Nilfisk Industrial Vacuums helps customers solve a variety of cleaning challenges, including combustible dust, general maintenance, overhead cleaning, abatement, process integration, laboratory/cleanroom control, and more. For more information, visit www.nilfiskindustrialvacuums.com.
Nilfisk Industrial Vacuum Division
740 Hemlock Rd.
Suite 100
Morgantown PA 19543
Phone: 610-913-5300
Url: http://www.nilfiskcfm.com/
Contact:
Sarah Metz
Email: sarah.metz@nilfisk.com
More from Thermal & Heating Equipment