NID/NTU offers distributed-NFV capability.
Press Release Summary: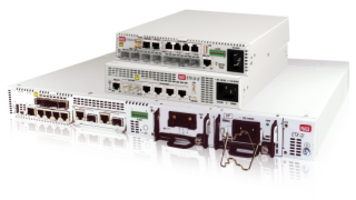 Featuring field pluggable x86 NFV module for hosting virtual network functions, ETX-2i IP and Carrier Ethernet NID/NTU serves as virtualization engine at customer edge, and is specially designed for Layer 2/Layer 3 business, mobile backhaul, and wholesale services. Unit supports dynamic forwarding to enable chaining flexibility for embedded and virtualized functions. In addition, ETX-2i features built-in router and modular network interfaces for any access infrastructure.
---
Original Press Release:
RAD Launches Unique vCPE Platform at NFV and SDN Summit 2015
PARIS, -- ETX-2i and D-NFV Orchestrator the Latest Additions to its Award-Winning Service Assured Access Solutions

RAD [ http://www.rad.com , the industry pioneer of virtualization at the customer edge, today expanded its Service Assured Access (SAA) solutions with the launch of a unique carrier-grade virtual CPE (vCPE) platform with Distributed-NFV [ http://www.rad.com/32/Distributed-NFV/33885 (D-NFV) capability.

"As the prime candidate for early commercial NFV deployments, vCPE gets industry-wide attention," notes Ulik Broida, RAD's Vice President of Marketing and Business Development. "In addition to hardware abstraction, vCPE enables shorter and more flexible deployment cycles for new services, with a lucrative cost structure," he continues. "The ETX-2i is the ideal vCPE platform for service providers and private network operators wishing to take advantage of these benefits in their transition to programmable networks."

RAD's ETX-2i is a powerful IP and Carrier Ethernet NID/NTU with a field pluggable x86 NFV module for hosting virtual network functions (VNFs). Serving as a virtualization engine at the customer edge, it is specially designed for Layer 2 and Layer 3 business, mobile backhaul and wholesale services. The ETX-2i can be managed by RAD's D-NFV Orchestrator or any third-party orchestrator using open standards, and supports various options for vCPE architecture and VNF placement to meet agility, performance, security and cost needs.

Dynamic Forwarding Enables Chaining Flexibility
What makes ETX-2i unique is that it supports dynamic forwarding to enable chaining flexibility for embedded and virtualized functions. Moreover, it features a high-scale built-in router and modular network interfaces for any access infrastructure - fiber, PDH, SDH/SONET, SHDSL, or VDSL.

"Service providers in our global carrier research clearly indicate that vE-CPE    ' the virtualization of enterprise CPE for business customers    ' is the #1 NFV use case they are investing in," states Michael Howard, principal analyst for carrier networks at IHS-Infonetics Research. "Further, the providers voted vE-CPE the #1 use case for producing new revenue, the #1 use case for CapEx savings, and the #1 use case for reducing operational expenses. RAD has been an early proponent of D-NFV, and operators are interested in RAD's innovative and pragmatic approach to vE-CPE deployment."

RAD is exhibiting the ETX-2i at the NFV & SDN Summit 2015 [ http://www.rad.com/27/NFV-SDN-Summit-2015/34480 , which is now being held in Paris. At the show, it will also be conducting a demo of its D-NFV Orchestrator, which converges the control of physical and virtualized network elements and has open interfaces to end-to-end network orchestrators.

About RAD
RAD is a global Telecom Access solutions and products vendor. Our Service Assured Access solutions for mobile, business and wholesale service providers are designed to improve the way they compete: service agility to minimize time to revenue, complete visibility of network performance for greater operational efficiency and better QoE to reduce churn. We are at the forefront of pioneering technologies, such as: Distributed NFV, MEF Carrier Ethernet 2.0, Layer 2 and Layer 3 performance monitoring, hardware miniaturization, and synchronization over packet. Founded in 1981, RAD has an installed base of more than 13 million units, and works closely with Tier 1 operators and service providers around the globe.

RAD is a member of the $1.2 billion RAD Group [ http://www.rad.com/12/7476 of companies, a world leader in communications solutions.

Contact
Bob Eliaz, RAD
Tel: +972-3-6458134
bob@rad.com
More from Electrical Equipment & Systems