Nickel Plated Wedgmount® Is Clean as a Whistle for Clean Room Applications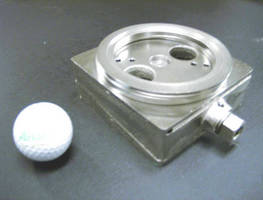 Clean rooms are defined as specially constructed, environmentally controlled enclosed spaces with respect to airborne particulates, temperature, humidity, air pressure, airflow, etc. Federal Standard 209E defines a clean room as a room in which the concentration of airborne particles is controlled to specific limits. Clean rooms are typically used in manufacturing, packaging, and research facilities associated with Semiconductor, Pharmaceutical, Aerospace, as well as Laser & Optic Industries. AirLoc has met the challenge of providing leveling mounts for Clean Room applications with NICKEL PLATED WEDGMOUNTS. These precise leveling mounts contain no grease, paint, or loose particulates which are restricted from Clean Rooms.

Shown below is a 2120-KSKC Nickel Plated Wedgmount containing no lubricating greases, painted surfaces, or loose contaminants. The low coefficient of friction of the nickel plated surfaces allows the interlocking wedges and spherical seat of this leveling mount to function as designed. Let AirLoc help you solve Clean Room or other special environment, equipment leveling problems.

For more information regarding AirLoc Pads, or Leveling Mounts, contact our headquarters in Franklin, MA or your regional AirLoc Representative.

More from Packaging Products & Equipment