Nickel Aluminum Bronze Alloys suit aerospace applications.
Press Release Summary: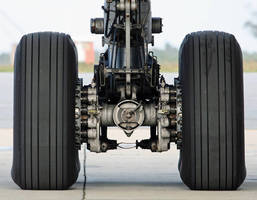 Engineered for bushings used in aircraft landing gear pivot points, Nickel Aluminum Bronze Alloys withstand severe of conditions. Strength, ductility, and abrasion resistance under loading conditions suit military and commercial aircrafts. Addition of nickel to aluminum bronze alloy suppresses or eliminates tendency of martensitic structure to transform to eutectoid, enabling alloy to be stress relieved and permitting secondary alpha precipitation at temperatures from 800 to 1,050°F.
---
Original Press Release:

National Bronze Manufacturing Offers Nickel Aluminum Bronze Alloys for Aerospace Applications



Roseville, MI — National Bronze Mfg. Co., a leading manufacturer of bronze bushings, bearings, and machined components, announced the introduction of Nickel Aluminum Bronze Alloys engineered specifically for Aerospace applications.  The focus of the Nickel Aluminum Bronze Alloys is the critical bushings used in aircraft landing gear pivot points.  The high strength, ductility, and good abrasion resistance under severe loading conditions make Nickel Aluminum Bronze an ideal choice for both military and commercial aircrafts. These flanged bushings require a base metal able to withstand the most severe of conditions.  The most common Nickel Aluminum Bronze Alloys used for landing gear bushings are AMS 4640 C63000, AMS 4590 C63020, AMS 4880 C95510, and AMS 4881 C95520 Nickel Aluminum Bronze.



One of the most effective methods used to strengthen a copper alloys is the use of a thermal treatment processing. Heat treatment of many of the copper alloys can improve the strength of the finished product.  Heat treatments rely on the ability of the atoms in the alloys crystals to diffuse through each other. The metal is heated to a temperature high enough to cause all of the alloying elements to diffuse evenly into the copper.  The amount of solute diffused into the copper when heated is greater than the solubility limit at room temperature.



With conventional Aluminum Bronze Alloys, lower annealing temperatures cannot be used because the martensitic structure tends to transform to eutectoid.  This results in a more brittle alloy having reduced strength and loss of ductility. It was discovered that by adding nickel to the aluminum bronze alloy the tendency of the martensitic structure to transform to eutectoid is substantially suppressed or eliminated. This suppression and/or elimination enables the alloy to be stress relieved and permits secondary alpha precipitation at temperatures in the range of 800° to 1050° F, which produces and alloy having high tensile strength, high yield strength, and good ductility.



C63000 AMS 4640 and C63020 AMS 4590 are wrought alloys, meaning that they are an extruded product.  While C95510 AMS 4880 and C95520 AMS 4881 are cast alloys, generally manufactured via continuous casting.  C63020 and C95520 are also known as martensitic which references the structure transformation that takes place. These 2 alloys are the strongest Nickel Aluminum Bronze Alloys.  In some cases they can be a substitute for Beryllium Copper due to their exceptional properties.



The wrought alloys (C63000 and C63020) are limited to solid shapes due to their manufacturing process.  This can increase the cost of landing gear bushings machined from the solid bar stock.  The solid shape increases both scrap and machine time.  The advantage of the cast alloys (C95510 and C95520) are in the fact that they can be cast in tube form.  With the closer net shape of the cored bar, there is less scrap loss and less machining time when manufacturing landing gear bushings for the cored bar than the solid round.  The mechanical properties of the cast substitutes generally meet the wrought product standards.  This allows them to be used as an economical alternative and lower overall product costs.



"Many Aerospace OEM's have approved the cast products as acceptable material substitutes" states Michael Russo Vice President of Business Development.  "By offering both the cast and wrought product we can supply companies in both the OEM and Aftermarket sectors.   Our extensive machining capabilities allows us to supply these alloys in both raw bar stock form as well as machined parts.  From rough machined blanks to fully machined flanged bushings we cater to our customers individualized needs" Russo comments.



Nickel Aluminum Bronze Alloys are only a handful of the wide range of copper alloy products offered by National Bronze Mfg. Co.  To learn more about National Bronze Mfg. visit their website at www.nationalbronze.com or view their aerospace components page, www.nationalbronze.com/aerospace.php ,for information specific to the Aerospace Industry.



About National Bronze Mfg. Co.

National Bronze Mfg. is a leading manufacturer and supplier of bronze based products. Since 1911 National Bronze Mfg. has been one the largest manufacturers of bronze bushings, bearings, and other industrial components. National Bronze Mfg. is also a full metal service center supplying bronze, brass, and copper bar stock to manufacturers worldwide. With an expertise in copper alloy based product National Bronze Mfg. services customers in a wide variety of industries.



http://www.nationalbronze.com/

More from Materials