Nice Sun PV Co. Sees Yield and Cell Efficiency Improvements with Despatch Industries' New Safire Firing Furnace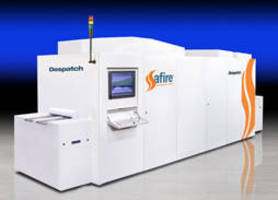 Minneapolis, Minn., U.S.A. - Despatch Industries, a leading technology and equipment provider for the solar industry, announces that the company has recently completed high-volume production testing of its new Safire firing furnace at Nice Sun PV Co. In the production testing environment, Nice Sun was able to achieve a 0.1 percent absolute improvement in overall efficiency on a baseline product and up to 0.13 percent on some product types. Additional Safire benefits achieved during testing include reducing wafer scrap by close to one percent and reducing low efficiency cells by four percent.

The firing process is critical because it is the last step in the cell manufacturing process and it has a significant impact on cell efficiency. Despatch's new Safire was built on the foundation of stability and high performance technology. The Safire includes thermal profile tailoring features that enable the short time-above temperature and distributed heating capabilities required for state-of-the-art metallization and passivation layers. The Safire offers improvements in scrap reduction and overall yield which have a significant impact on cell manufacturer's costs and profitability.

"The solar industry and our customers are continuously driven to reduce the overall cost per watt of the solar cells they produce," states John Farrell, Managing Director, Despatch Solar Business Unit. "When we developed the Safire, we focused on providing a next generation firing platform that has a measurable impact on productivity and yield and that provides a solution to support advanced cell structures. The Safire's performance at Nice Sun exceeded our expectations and we look forward to bringing these performance results to all of our customers."

"As a top industry provider of high efficiency mono-crystalline solar cells, we were very pleased to see the efficiency improvement achieved with the Safire platform," states Mr. XuDong Zhu, Nice Sun General Manager. "We were also impressed with the impact the Safire had on reducing the number of lower efficiency cells being produced and the improvement in the production metrics for cells manufactured on the Safire line. Through our cooperation with Despatch and the use of Safire we have been able to realize an increase in our overall production performance and profitability in a very challenging market."

About Despatch: Despatch Industries is the global leader in producing innovative, next generation tools and technology for the solar cell manufacturing industry. The company's regional offices and complete global service network allow Despatch to provide local sales and product support to all customers worldwide. Despatch equipment is consistently recognized for exceptional performance and process quality, optimal cell efficiency, maximum uptime and reduced operating costs. For more information on Despatch visit our website: www.despatch.com.

About Nice Sun PV Co., Ltd: Nice Sun PV Co.,Ltd is a high-tech enterprise that commits itself to the research, development, manufacturing, sales and after service of the solar photovoltaic products. Its products cover many series, such as efficient solar cells with tracking function, silicon or polysilicon solar cells and its components, solar street lights, solar power equipments and so on. The company is located in the industrial zone of Jin, Zhangzhu in Yixing City; its modern plant covers 38,000 square meters, is equipped with most advanced production lines of photovoltaic module, as well as advanced production technologies and precise quality control systems.

For more information visit http://www.nicesunpv.com/.

More from Thermal & Heating Equipment