Next-Generation LLDPE Packaging Based on Weston® 705 Antioxidant Hits Consumer Shelves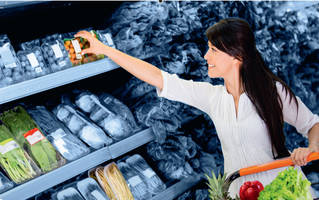 DANBURY, Conn. (March 21, 2017) - A new generation of linear low-density polyethylene (LLDPE) packaging based on Addivant's nonylphenol-free stabilizer WESTON® 705 has successfully hit consumer shelves, bringing a new level of safety, performance, and efficiency in food packaging across the U.S., Europe, and Asia.
With the arrival of these new commercial packaging applications, the entire value chain is validating the performance improvements associated with Addivant's new generation of liquid antioxidant. "Due to its high phosphorous content, WESTON® 705 reduces the use of antioxidants by up to 20%, allowing for more flexibility in formulations and recycling," said Dr. Jonathan Hill, Chief Technology Officer for Addivant. "Polyethylene resins based on WESTON® 705 are easier to process, more versatile, and create less plateout or gels than resins based on conventional solid phosphite antioxidant."
WESTON® 705 has been approved globally by more than 20 major polymer manufacturers. It is the only liquid antioxidant for polyethylene producers offering a broadly tested single-additive solution for global converters and packaging manufacturers.
The growing commercial success of WESTON® 705 in food packaging is being fueled by consumers and regulators increasing their focus on substances that unintentionally migrate from packaging into food. Non-governmental organizations and authorities worldwide are pushing new food packaging regulations with a key focus on these Non-Intentionally Added Substances (NIAS). An example is the new Chinese food-contact law GB9685-2016 which, effective October 2017, will not allow greater than 10ppb of nonylphenol to migrate into food.
Developed with consumer safety in mind, WESTON® 705 is the industry's only liquid phosphite antioxidant with a full, clean NIAS human safety assessment and is approved for food contact by the FDA, Europe's EFSA, and China's NHFPC.
Today, WESTON®705 is approved for food-contact use in more than 50 countries and allows polyolefin, elastomer, and PVC producers to anticipate changing regulations for nonylphenol and other NIAS.
By the end of 2017, Addivant will have expanded its WESTON® 705 capacity five-fold compared to early 2016 at its Morgantown, W.Va. plant and in China. WESTON® 705 is already one of Addivant's largest products. "This is another important milestone for Addivant's more than $30 million investments in technology and capacity for WESTON® 705," said John Steitz, Addivant's CEO. "We are establishing a new standard in our industry and it is crucial that we stay ahead of demand and provide full security of supply for our global customers." The company anticipates an additional expansion in 2018.
Addivant™ is dedicated to Responsible Care®, the chemical industry's initiative to protect the environment; while ensuring the safety and security of our operations; and safeguarding the health and safety of our employees and neighboring communities. The goal is to make continuous progress toward the vision of no accidents, injuries, or harm to the environment. As active and responsible members of the communities in which we operate, Addivant™ is committed to open communication with our employees and neighbors. The company monitors the safe production, transportation, and use of its products. Employees are comprehensively trained to do their jobs safely and with minimum impact on the environment. We care about the future - for all of us. To learn more about WESTON® 705, visit https://www.weston705.com/.
About Addivant™
Addivant™ is an innovator in the field of polymer additives, developing customized solutions that provide customers enhanced application performance, safe handling, and reduction in cost of use. The company is recognized industry-wide for its extensive portfolio of specialty additives including antioxidants, light stabilizers, rubber additives, polymer modifiers, metal deactivators, polymerization inhibitors, and intermediates. Addivant is an international company with 11 plants on five continents, as well as research, manufacturing, and sales facilities around the globe. The company maintains its global headquarters in Connecticut, USA, with regional headquarters in Al Jubail, Saudi Arabia, Basel, Switzerland, and Shanghai, China. Addivant is an independent portfolio company of SK Capital. Visit www.addivant.com for more information.
About SK Capital
SK Capital is a private investment firm with a disciplined focus on the specialty materials, chemicals and healthcare sectors. The firm's purpose is to build strong and growing businesses that create substantial long-term economic value. SK utilizes its industry, operating and investment experience to identify opportunities to transform businesses into higher performing organizations with improved strategic positioning, growth, and profitability as well as lower operating risk. SK Capital's portfolio companies generate revenues of approximately $8 billion annually and employ approximately 9,000 people. The firm currently manages more than $1.5 billion of committed capital. Visit www.skcapitalpartners.com for more information.
Company Contacts:
Americas: Beverly Kindermann: +1 203 702 6182
Europe: David DeCorte: +32 479 456 386
Asia Pacific: Bill Xu: +86 21 6032 6822
More from Explosives, Armaments, and Weaponry