New ZOOM Fiber Laser Highlights MC Machinery Systems' FABTECH Canada Booth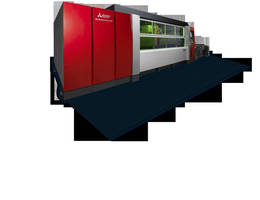 Wood Dale, IL – Don't miss the variety of products built and designed for fabricators in the MC Machinery Systems, Inc. booth, #713, at this year's FABTECH Canada, March 22-24 in Toronto. Meet with product experts and learn about our newest fiber laser technology as well as the tried-and-tested machinery fabricators have come to rely on in their shops.



A New Addition to the Fiber Laser Lineup—The eX-F Series with ZOOM Fiber



The new eX-F Series fiber laser combines the best of both worlds: the top notch construction of the popular eX Series CO2 lasers and the power and reliability of Mitsubishi's finest fiber resonator. In testing, the eX-F has demonstrated significant advantages over conventional CO2 lasers in medium- and thick-plate processing in terms of time and cost. Non-process times are also cut in half with simultaneous nozzle cleaning, height sensor calibration, nozzle changing and gas purge.



Operating costs are cut dramatically, 70-80 percent, when compared to conventional CO2 and even more when available ECO Mode is activated. Powerful controls with standard features like automatic focusing, two-action processing, simple nesting and program editing make it easy to use for the operator. 



The NX-F Series Fiber Laser



Mitsubishi's NX-F series offers the most sophisticated control and maximized cutting capacity. The system's z-axis linear drive, preset autofocus and safety cover all come standard. Cost-friendly ECO Mode reduces standby costs by up to 70 percent while Power Control system provides power stability of +/- 1 percent.



The Diamond BB 4013 Series Press Brake



Extremely quiet and environmentally clean, the BB series—fit with exclusively with Mitsubishi electronics, motors and servo drives—is a must-have, high-speed productivity asset. Backed by 100 mm per second movement and near-perfect repeat-stop accuracy, the BB 4013 is simple to use with offline 3-D programming, a 15-inch color touch screen and Windows software.



CNC Hydraulic Press Brakes from DENER



Updated CNC hydraulic press brakes from DENER are here. With multiple options to meet both standard and economical needs, these durable brakes are great for fabricators of any type.



Mitsubishi's superior products are backed by industry-leading service and support. For more information about Wire EDM, Sinker EDM, Laser, Press Brake, Milling, High-Speed VMC, EDM Drill, or Consumable Products, contact MC Machinery Systems, Inc., 1500 Michael Drive, Wood Dale, IL 60191, Phone: 630-616-5920 or visit www.mcmachinery.com.





More from Material Handling & Storage