New ZELo Desktop Studio Light for Videoconferencing
Press Release Summary: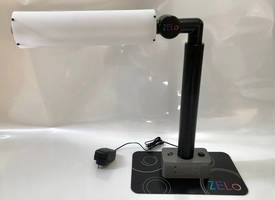 Delivers everything from warm light to daylight with variable color temperature
Can be adjusted to create a flattering lighting angle and a telescoping arm
Provides broadcast-quality results that improves personal lighting in any workspace
---
Original Press Release:
Brightline Introduces ZELo Desktop Studio Light
Affordable personal video light with smart app control improves videoconferencing for meetings and more
Bridgeville, Penn. – Dec. 1, 2020 – Brightline, a leading manufacturer of video lighting systems, today unveiled ZELo, its new desktop studio light for videoconferencing. Designed for business professionals, educators, broadcasters, and social media influencers, ZELo delivers broadcast-quality results that enhance personal lighting in any workspace.
With variable color temperature, ZELo delivers everything from warm light (2700 degrees) to daylight (6500 degrees), so it blends with any ambient room light environment. When paired with Brightline's free app, iOS and Android portable devices can adjust brightness and color temperature, build and store settings, and set timers. ZELo even supports voice control through Alexa and Google Assistant devices. Plus, built-in manual controls make it easy to change settings.
ZELo can be adjusted to create a flattering lighting angle, and a telescoping arm raises and lowers the light to provide clearance over most desktop and laptop monitors. Position ZELo lights on either side of a video monitor to replicate studio lighting for remote broadcast news reports or webcasting. ZELo also folds for easy transport and storage.
"The ever expanding use of Zoom and other videoconferencing tools brought on by the rapid growth in remote video has shown us all how important it is to have high-quality personal lighting," said Kathy Katz, Brightline managing partner. "ZELo can be adjusted and customized to work with any office or home office setting. Whether you're teaching an online class or conducting virtual meetings, use ZELo for every on-camera hello."
ZELo is priced at $199 and will be shipping in 60 days. Brightline is currently taking preorders for ZELo at brightlines.com/ZELo.
About Brightline
A leading manufacturer of energy-efficient lighting systems for broadcast, videoconference, e‑learning, and government, Brightline's mission is to enable communication through clarity. With more than 5,000 customers in over 35 countries, Brightline specializes in enhancing the presentation of visual images by providing high quality, environmentally responsible, and cost-effective evolutionary lighting solutions. Get enlightened at brightlines.com.
Press Contact:
Mark J. Pescatore
Pipeline Communications
(561) 561-3106
mark@pipecomm.com