Impeller / Propeller / Turbine - Agitators / Mixers
New Ystral Jetstream Mixer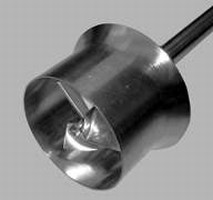 PROVIDES COMPLETE AND HOMOGENOUS MIXING IN VESSELS

Powder Technologies, Inc., a leading provider of powder and liquid processing systems and related engineering services, has announced availability of their new Ystral Jetstream Mixer.

In operation, a fast rotating rotor creates a vertical stream in a stator that is directed toward the bottom of a tank or vessel. At the vessel bottom, the stream is diverted and forms an upward stream on the wall of the vessel. Turbulences in the mixing head and a strong vertical circulation provide conditions for optional mixing of entire contents in the vessel or tank. Only the Jetstream mixer principle provides a balanced relationship between a micro and macro mixing action.

Typical applications include but are not limited to fruit concentrates, yogurts, milk, mixed drinks, shampoos, shower lotions, rub-in gels, tablet coatings, cough syrups, emulsions, suspensions, and solutions.

For more information and a FREE test using your product, e-mail: sales@powdertechusa.com, call 609-914-0521, Fax: 609-914-0318, visit: www.powdertechusa.com or write Powder Technologies, Inc., PO Box 780, Hainesport, NJ 08036 USA.

More from Architectural & Civil Engineering Products