New Wireless/IoT Product Line Provides Oil Field Technicians The ability to Install and Configure a Complete, Robust, wireless communications network
Press Release Summary: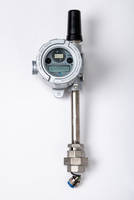 Model 2100 Node is compatible with Electrolab Digital Level Sensors
Long battery life, durability, safe and easy configuration
Connects all instrumentation on a pad site, regardless of brand and reliably share information between local and remote equipment
---
Original Press Release:
Electrolab Announces New Wireless/IoT Product Line
Boerne, Texas, Feb. 27, 2019 /PRNewswire/ -- Electrolab announces a new suite of Class I, Division 1 rated wireless radios (nodes) and gateways to the oil and gas market. These wireless products complement Electrolab's existing line of "best in class" automation products for the industry, while also interfacing with a variety of third-party equipment.
"For many years, Electrolab customers have asked us for a suite of quality wireless devices. With a reputation based on products and technologies that work reliably, relationships built on best-in-class service, and a supply chain that meets customers' needs, we knew we needed to offer the market a line of proven wireless devices that met our customers' demands and Electrolab's high standards," said Todd Mathias, President, Electrolab, Inc.
"Electrolab brings this IoT platform to market through a private label agreement with Banner Engineering. Over the years, Banner's commitment to delivering proven products of the highest quality, fulfilling the needs of customers, and operating with honesty and integrity garnered our attention. Banner and Electrolab share a vision of success for this product line," Mathias added.
The Wireless/IoT product line, optimized for Electrolab customer applications, offers oil field technicians the ability to easily install and configure a complete, robust, wireless communications network. The Electrolab nodes connect all instrumentation on a pad site, regardless of brand, and reliably share information between local and remote equipment. Various communication protocols facilitate the connection of local wireless networks with the Internet and/or host systems, such as PLCs and SCADA devices. Long battery life, excellent durability, safe and easy configuration are product line highlights. The product suite includes five different node options, based on the sensor and data transmission required, and two gateway options:
Nodes:
Discrete/Analog Node
Model 2100 Node, compatible with Electrolab Digital Level Sensors
Extended Warmup Node
Thermocouple Node
RTD Temperature Sensing Node
Gateways:
The D80 Performance Gateway configuration is accomplished in three easy steps using just two thumbs and a screwdriver. You can even initiate a site survey from the device itself. The D80 Gateway communicates through Modbus protocols with local flow computers.
The D100 IoT Gateway Controller offers Ethernet / IP and cellular connectivity, along with local I/O and wireless connectivity, to provide a proven platform for Industrial Internet of Things (IIoT) applications. With a built-in logic controller, the D100 offers easy-to-use programing to ensure dependable connectivity and communications.
"Wireless solutions from Banner — from sensor to cloud — are built to work together for easy configuration and use. Electrolab's expertise and history of success in the oil field and knowledge of customer requirements will ensure these products offer reliable, long-lasting wireless communications to the industry," said Chris Dales, Global Business Development Manager - Wireless, Banner Engineering
Founded in 1966, Banner Engineering is a global company and a recognized leader in the field of industrial automation and wireless product development. www.BannerEngineering.com.
Founded in 1976, Electrolab is a leading innovator in the engineering and manufacture of industrial electronics, sensors and controllers for the oil and gas, water, and industrial control industries. www.electrolabcontrols.com
Source Electrolab
Contact:
Sharon Drees, Marketing Director, SKDrees@electrolabcontrols.com, 210-824-5364
Web Site: http://www.electrolabcontrols.com
More from Electronic Components & Devices