New WindCube Nacelle Turbine-Mounted Lidar Meets IEC Standard
Press Release Summary: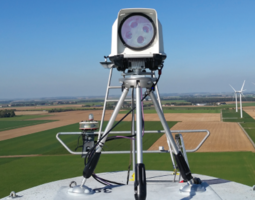 Capable of measuring wind condition up to 700 meters for onshore and offshore wind turbine
Measures horizontally at hub height from all turbines and offers 20 simultaneous measurement distances enable in-depth analysis
Provides rapid data completion that meets PPT requirements of wind turbines, while reducing operational cost and increasing efficiency
---
Original Press Release:
Leosphere, a Vaisala Company, Launches Wind Industry's Longest-Range Turbine-Mounted Lidar with WindCube® Nacelle
By measuring greater distances to develop a broader wind profile, WindCube Nacelle enables Power Performance Testing for any onshore or offshore wind turbine.
Leosphere, a Vaisala company that specializes in developing, manufacturing, and servicing turnkey wind lidar instruments for wind energy, aviation, meteorology, and air quality, today announced WindCube® Nacelle – a lidar that mounts on the nacelle of all turbines to measure the wind conditions at hub height – now has the unprecedented capability to measure up to 700 meters.
"Whether onshore or offshore, the WindCube Nacelle's extraordinary measurement range and accuracy provides a complete picture of the wind profile — whatever the turbine rotor size," said Alexandre Sauvage, CEO of Leosphere, a Vaisala company. "As turbines continue to grow taller, performance testing and verification becomes increasingly important as underperformance equates to reduced power output and significant lost revenue."
Fully compliant with wind industry best practices and an upcoming IEC standard, the WindCube Nacelle mounts temporarily on or fully integrates into the nacelle and enables operators and wind turbine original equipment manufacturers (OEMs) to efficiently and accurately assess turbine performance.
The primary benefits and features of WindCube Nacelle include:
Greater range of measurement for onshore and offshore – With a minimum range of 50 meters, WindCube Nacelle now extends to 700 meters (nearly doubling the previous maximum measurement range of 450 meters).
Serves all turbines – The lidar measures horizontally at hub height from all turbines, no matter the size or rotor diameter. Plus, 20 simultaneous measurement distances enable in-depth analysis.
Efficient Power Performance Testing (PPT) – It is the only lidar on the market providing rapid data completion that meets the PPT requirements of the largest wind turbines, ultimately reducing operational cost while increasing efficiency.
Easy to deploy and maintain – Simple installation, lightweight components, full integration capability, and straightforward configuration processes ensure fast time-to-value on any wind farm.
Designed to simplify information obtained by WindCube Nacelle, the recently launched WindCube Insights Analytics – a proprietary data analytics software tool – is the first in the industry to maximize both lidar data and supervisory control and data acquisition (SCADA) turbine performance intelligence. By seamlessly allowing operators to perform quick, easy, and transparent Power Performance Testing calculations, with IEC-compliant filtering, customers are more available to focus on the most essential performance analysis work.
For more information on how Leosphere, a Vaisala company, provides the most comprehensive lidar-based wind measurement systems to markets around the globe, please visit www.leosphere.com.
More information for the media
Amy Leger, Director of Client Services, MAPRagency
Tel. +1 763 772 4782
aleger@mapr.agency  
About Vaisala
Vaisala is a global leader in weather, environmental, and industrial measurement. Building on over 80 years of experience, Vaisala provides observations for a better world. We are a reliable partner for customers around the world, offering a comprehensive range of innovative observation and measurement products and services. Headquartered in Finland, Vaisala employs approximately 1,800 professionals worldwide and is listed on the Nasdaq Helsinki stock exchange.
www.vaisala.com
twitter.com/VaisalaGroup
About Leosphere
Founded in 2004, Leosphere is the world leader in ground-based and nacelle-mounted lidar (light detection and ranging) for atmospheric observation. The company designs, develops, manufactures, sells and services remote-sensing instruments for precise accurate wind measurement and aerosol characterization. Leosphere has been a fully owned Vaisala company since October 2018.
More from Fluid & Gas Flow Equipment