New Weego 66 Jump Starter is Offered with AutoBoost Functionality
Press Release Summary: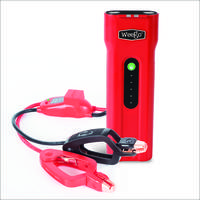 Weego 66 Jump Starter is designed for 12V gas and diesel engine systems and provides a jump start with 2500 peak amps and 600 cranking amps. Unit's Smarty Clamps® consist of lights and sounds that guide user through jumping process. Weego 66 comes with built-in reverse-polarity, overheat and power surge protections. The jump starter can be operated in -4 to 140°F temperature range and automatically sends power to dead batteries without an override button. Unit features 5V USB that can be used for charging phones, tablets, laptops or mobile devices.
---
Original Press Release:
Weego 66 the Most Innovative and Advanced Tool Released in Decades Makes Light Work for Any Power-Starved Jobsite Professional
High Performance Jump Starting Power Pack Delivers Compact, Versatile, Safe, Rugged, and Reliable Portable Power
WESTAMPTON, N.J. (May 15, 2018) - Weego, innovators of compact, safe and reliable portable jump starters, announced today the most versatile, rugged 12V lithium-ion jump starting power pack on the market built for professionals – Weego 66.
The most significant update to jump starter technology in over 40 years, Weego 66 sets a new standard for compact versatility, delivering the power needed to get cars, trucks, tractors, boats, and light-duty equipment, moving again – every time. Weighing only 2.5 pounds, Weego 66 is an incredibly practical and convenient solution for any jobsite and any professional on land or sea.
The four-in-one Weego 66 made for 12V gas and diesel engine systems, jump starts with 2500 peak amps and 600 cranking amps; is capable of bringing phones, tablets, laptops or other mobile devices back to life via 5V USB and 19V outputs; powers 12V portable accessories; and provides ultra-bright lighting functionality with a 600-lumen dual LED flashlight.
"The downside of jump starting products for the pro is their size and weight, inability to hold a charge over an extended period, relatively short lifespan, lack of safety features and almost complete lack of versatility," said Gerry Toscani, CEO of Weego. "Following years of listening to our customers and intensive field testing, Weego has designed and engineered the 66 right here in the USA to be a real all-in-one workhorse."
Weego 66 comes with Smarty Clamps® – innovative, patented, ergonomic jump starter clamps that incorporate lights and sounds to guide users through the jumping process, and feature built-in anti-spark, reverse polarity, overheat and power surge protections; Weego 66 is not only the easiest to use but also the safest. The tapered tips fit in tight spaces and the clamps open extra wide and are powered on both sides to ensure good connections. Weego 66 also has incredible holding power, providing up to 2-years standby time and a broad operating range of -4 to 140 degrees Fahrenheit. Offering AutoBoostTM functionality for those extra-tough situations, Weego 66 automatically sends maximum power to dead batteries (down to ½ volt) without an override button. This new feature eliminates all guesswork and is still super safe for the user.
"The main advantage of Weego 66 is its power to weight ratio," continued Toscani. "With Weego 66 up to 90% lighter and 80% smaller than comparably-powered, traditional, lead-acid jump boxes, think of your Weego as an investment in a game-changing, compact, powerful, safer, and easier-to-use tool. Unlike those big jump boxes, it reduces strain on the user and is easy to maneuver in tight spaces. Its ergonomic design makes any job easier. It is also versatile enough to be used every day to keep a phone or laptop charged on the jobsite where outlets may be at a premium or as a tactical-grade flashlight when working in dimly lit areas. When compared to jumper cables, to be honest, there is no comparison. Weego is a convenient, feature-rich power tool for the pro."
Guaranteed to perform as promised, Weego 66 cranking amp readings are verified; engine compatibilities are tried and true; and lumen specifications are accurate. With no governing agency to verify portable-power product specifications, trust in a brand is critical to ensure safety and Weego is the brand that users can trust.
The rugged Weego 66 is IP65 rated for water, dust and dirt resistance. Weego 66 is independently lab tested and backed by an 18-month warranty. For more information on Weego 66 visit www.myweego.com.
About Weego
Weego is a brand of portable power products including compact, lightweight, lithium-ion jump starters for cars, trucks, ATVs, motorcycles, boats, light-duty equipment, and more, complementary accessories, as well as rechargeable battery packs that charge phones, tablets, speakers, and more. Founded in 2014 by Paris Corporation, Weego has already received awards in product innovation and branding excellence in consumer electronics, auto, outdoor, marine, powersports, and office supply channels. For more than 50 years, Paris Corporation has built a reputation on quality products and excellent service and support, serving more than 30 years in the food, drug, mass, consumer electronics and hardware channels. To learn more about Paris Corporation, please visit www.pariscorp.com or contact agolden@rushtongregory.com.
Find us on social:
#Weego
Facebook: facebook.com/myweego
Instagram: @myweego
Twitter: @myweego
YouTube: youtube.com/myweego
Vimeo: vimeo.com/channels/myweego
LinkedIn: Weego
More from Machinery & Machining Tools