New WDG-V Series Flue Gas Analyzers Come with Integrated Flow Measurement
Press Release Summary: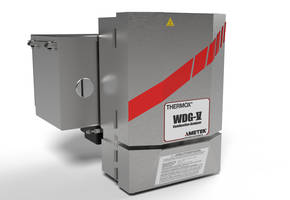 Suitable for combustion optimization in power and steam boilers for particulate loadings up to 30 mg/m³
Enables user to track or hold analog readings during blowback period
Features predictive diagnostics, proactive alarms and blowback option that consist of heated accumulator
---
Original Press Release:
Ametek Introduces WDG-V Blowback for Coal Fired Power & High Particulate Applications
PITTSBURGH, PA – AMETEK Process Instruments has broadened its line of WDG-V series flue gas analyzers to include a Blowback option for high particulate applications. The WDG-V Blowback, leveraging industry proven zirconium oxide (ZrO2), provides efficient blowback cleaning of the sample probe and filter from an integrated, directmounted enclosure. The WDG-V Blowback is ideal for combustion optimization in power and steam boilers (coal, wood waste and heavy oil fired) and is the analyzer of choice for particulate loadings of up to 30 mg/m³.
With an integrated sample system, the WDG-V Blowback analyzer is simple and easy to use. By using an existing AMEVision HMI, operators can automate the blowback or perform it manually on the spot. An integrated flow measurement allows for blowback automation on a timed basis (e.g., once per hour), at a low flow threshold (e.g., 40% flow) or both. Users can also track or hold analog readings during the blowback period, as needed.
The integrated enclosure means that the analyzer can be direct-mounted within a smaller footprint. It also eliminates the need for heated sample lines, minimizing installation time and simplifying air and power lines to single connections. To further reduce maintenance time, the enclosure is designed to allow users to service both the sample probe and filter without removing the analyzer from the process flange.
Finally, the WDG-V Blowback is designed for reliability and safety. In addition to the predictive diagnostics and proactive alarms of the WDG-V series analyzer, the blowback option includes a heated accumulator to preheat the air and prevent condensation within the sample line during blowback. The system shares a self-regulated heater to maintain temperatures within the enclosure and to proactively signal low temperature via a contact alarm output.
With its unique engineered design and automation, the WDG-V Blowback brings safety, reliability and serviceability to the forefront of combustion control in high particulate applications.
About AMETEK Process Instruments
AMETEK Process Instruments—the leader in online analytical instrumentation with the industry's most extensive product line—offers analyzers based upon eleven differentiated technology platforms and used by markets ranging from oil, gas, and power to pharmaceutical and semiconductor chip manufacturing.
AMETEK Process Instruments is a unit of AMETEK, Inc., a leading global manufacturer of electronic instruments and electromechanical devices. AMETEK Process Instruments joins AMETEK's Chandler Engineering, Grabner Instruments, Petrolab and Spectro Scientific within the AMETEK Energy & Process Instrumentation (E&PI) division.
For more information on the full line of AMETEK's analytical instrumentation, contact AMETEK Process Instruments, 150 Freeport Road, Pittsburgh, PA 15238. Phone: 412-828-9040 Fax: 412-826-0399. Website: www.ametekpi.com
Other AMETEK Process Instruments locations are 455 Corporate Blvd., Newark, Delaware, 19702 USA. Phone: 800-222-6789. Fax: 302-456-4444; 2876 Sunridge Way NE, Calgary, AB T1Y 7H9. Phone: 403-235-8400 Fax: 403-248-3550; and 4903 West Sam Houston Parkway, Houston, TX 77041. Phone: 716-466-4900. Fax: 281-463-2701. E-mail: sales.info@ametek.com
 Contact: Karla Graves, 412-826-2446, karla.graves@ametek.com
Contact This Company Download Spec Sheet
More from HVAC