New Water Treatment Systems Prevent Contamination from Future Cycles
Press Release Summary: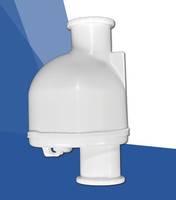 Offer high-level microbial disinfection barrier in hot water reuse
Feature ultraviolet light emitting diode (UV-C LED) water treatment technology
Ideal for residential hot-water systems
---
Original Press Release:
Mitsubishi Electric Partners with AquiSense Technologies to Offer UV-C LED Disinfection to Japanese Residential Market
Erlanger, KY – AquiSense Technologies, the global leader in UV-C LED water disinfection technology, is proud to announce a unique version of its PearlAqua Micro product specifically for Mitsubishi Electric Corporation (MELCO). The partnership provides MELCO with AquiSense's patented ultraviolet light emitting diode (UV-C LED) water treatment technology for MELCO's residential "Eco Cute" hot-water systems.
MELCO spent over two years evaluating UV-C LED technology solutions from over a dozen suppliers for its market leading CO2 heat-pump hot water supply system, selecting UV-C LED based on its low energy consumption, long service life and small footprint. AquiSense were selected as the long-term supplier based on leading product performance, high-volume manufacturing capability and competitive pricing. The new component from AquiSense, based on its market leading PearlAqua Micro platform, offers a high-level microbial disinfection barrier in hot water reuse. Unlike competing units, where pathogens remain throughout the water recycling process, the new UV LED disinfection acts as a barrier preventing contamination from future cycles.
Mitsubishi is a global conglomerate with product solutions on every continent and is known for their quality, sustainability, and innovation in a broad range of markets and applications. This agreement shows MELCO, a key subsidiary of Mitsubishi, have made a deep forward-looking commitment to deploy mercury-free UV-C LED technology in its products for decades to come, providing AquiSense substantial production growth for an extended period.
"This partnership signifies a huge adaptation of UV-C LED technology in the residential market. Not only is this the world's largest UV-C LED supply contract to date, it is likely larger than all previous contracts combined" said Jun Miyauchi, AquiSense Asian Regional Sales Director. AquiSense CEO, Oliver Lawal added "We are excited about this new partnership with MELCO. It represents a lot of hard work by our whole team globally and with production already underway. This again reinforces our position that UV-C LED technology offers unique benefits that expand the application use of chemical-free disinfection." 
About AquiSense Technologies
AquiSense Technologies is the global leader in UV-C LED systems design and manufacture. They work with leading LED manufacturers to evaluate their devices and then design efficient disinfection products. Using a combination of patented technology and in-depth know-how, AquiSense integrates LED devices into products that solve real world problems in water, air, and surface applications. 
About Mitsubishi 
Mitsubishi Corporation (MC) is Japan's largest general trading company with over 200 bases of operations in approximately 80 countries worldwide. Together with its over 500 group companies, MC employs a multinational workforce of approximately 60,000 people. MC has long been engaged in business with customers around the world in virtually every industry, including energy, metals, machinery, chemicals, food and general merchandise.
Contact:
Mitch Hansen
Marketing Manager | AquiSense Technologies
www.aquisense.com | Tel: +1 859 869 4700
More from Thermal & Heating Equipment