New VPStudio 2.4 Software for Configuration of Flow Meter
Press Release Summary: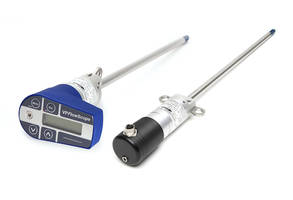 Data log files are retrieved from flow meter and safely stored in the projects database module
Connects device meter via USB or via the USB to RS485 converter automatically
Ideal for VPFlowScope M, VPFlowScope Probe, DP, In-line flow meters and the VPFlowTerminal
---
Original Press Release:
New: One VPStudio Software for all VPFlowScopes
Delft, July 17, 2019 -- VPInstruments released VPStudio 2.4 software. VPStudio 2.4 is compatible with all VPFlowScope flow meters. VPStudio 2 software can now be used for our entire product line: VPFlowScope M, VPFlowScope Probe, DP, In-line flow meters and the VPFlowTerminal
Use VPStudio software for configuration of your flow meter, download data log sessions and export them to CSV.
Auto detection
Connect your device meter via USB, or via the USB to RS485 converter, and it will be connected automatically. No more hassle with configuration, just plug-in and go!
Universal interface
The configuration interface is greatly simplified and identical for all flow meters. The VPStudio 2 interface is more intuitive and easy to understand.
Get organized
Data log files are retrieved from your flow meter and safely stored in the Projects database module within VPStudio 2. This way your data log files are better protected, more organized and available even when your flow meter is not connected.
VPFlowScope 3-in-1 flow meters
The VPFlowScope product line provides a complete solution for compressed air flow measurement. It covers the entire compressed air system, from supply to demand side. Thanks to the built-in pressure sensor and temperature sensor, the VPFlowScope is a powerful tool to detect what is really going on in your system. Detect excessive consumption, pressure losses, and temperature issues at the same time. Use the VPFlowScope for compressor performance measurement, cost allocation and condition monitoring of pneumatic machines. Thanks to the bi-directional sensitivity, the VPFlowScope is the only tool on the market to measure in compressed air ring networks.
About VPInstruments
VPInstruments offers industrial customers easy insight into energy flows. We believe that industrial energy monitoring should be easy and effortless, to enable insight, savings and optimization. VPInstruments' flow meters are calibrated on state-of-the-art calibration facility. Our calibration equipment is maintained under our ISO 9001 Quality Management System and is traceable to National Standards
VPInstruments' products are recommended by leading energy professionals worldwide and offer the most complete measurement solution for compressed air flow, gas flow and electric energy consumption. Our monitoring software, VPVision, can be used for all utilities, and enables you to see where, when and how much you can save. Our products can be found all over the world. We serve all industrial markets, for example; automotive, glass manufacturing, metal processing, food and beverage, and consumer goods. We can also help your industry. Let us open your eyes and start saving energy.
For more information, contact:
VPInstruments
Joyce van Eijk - joyce.van.eijk@vpinstruments.com
Buitenwatersloot 335, 2614 GS Delft
Tel. +31 (0)15 213 1580
Internet: www.vpinstruments.com
More from Electronic Components & Devices