Vision and Imaging Sensors / Detectors
New VISOR® Sensor Detects Consecutive Errors and Transmit Signal to Control System
Press Release Summary: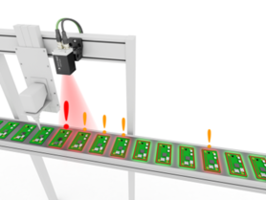 Transmits simple digital signals to the control system instead of data telegrams
Less PLC programming work is required in many applications
Detection results can be used in calculations and string or code comparisons for making logical decisions
---
Original Press Release:
Simple Solutions for Challenging Inspection Tasks
SensoPart's range of VISOR® sensors now allows complex linking of detection results – previously reserved to much more expensive image processing systems or sophisticated PLC applications. These advanced possibilities for processing results are part of a free software upgrade.
Designed as cost-effective and versatile solutions, vision sensors can today be found in automation applications across all sectors of industry. Their one shortcoming has now been remedied by SensoPart through a software upgrade for the entire VISOR® series: while vision sensors were previously only able to logically link results from individual detectors as part of an overall good/bad decision, the innovative "result processing" detector makes it possible to link results from previous assessments and other jobs, now allowing the identification of changes and trends over longer periods.
The detection results can be used in calculations, as well as in string or code comparisons, and allow logical decisions to be made – with a choice of more than 50 different integrated operators for the user.
The possibility of being able to store results as "static variables" for use in subsequent processes and statistical evaluations significantly extends the range of applications for vision sensors. The VISOR® can now detect consecutive errors and transmit a signal to the control system after a set number of errors have occurred (see graphic).
Reducing application and integration costs
Since such complex evaluations can now be carried out directly in the sensor, considerably less PLC programming work is required in many applications. The solution is simultaneously more robust as it only needs to transmit simple digital signals to the control system instead of data telegrams. This consequently also reduces integration costs: thanks to VISOR®'s built-in intelligence, challenging applications can be solved with a cost-effective vision sensor.
With its advanced evaluation capabilities, VISOR® is unique in this product and price class. The software upgrade 2.6 applies to the entire VISOR® family and is available to SensoPart users as a free download.
Thanks to its advanced result processing function, VISOR® was recognised for the third time as one of the best in machine vision by the judges of the Vision Systems Design 2022 Innovators Awards program.
About SensoPart Industriesensorik GmbH
SensoPart develops, produces and sells a wide range of innovative sensors for factory automation. The main focus is on optoelectronic sensors and camera-based vision sensors, which are used in industrial applications - e.g. for object or color detection, distance measurement, code reading or in robotics. The company's products are developed and manufactured in Germany, at the plants in Gottenheim, near Freiburg-im-Breisgau, and Wieden in the southern part of the Black Forest. With four subsidiaries and a network of 40 international sales partners, SensoPart is present worldwide.
Founded in 1994, the family-run company is synonymous with flexibility and stands for innovative and high-performance products. SensoPart has received numerous distinctions for its work, for example 1st place in the Automation Award and is multi-time winner of the German Sensor Application Prize.
For further information about SensoPart, visit http://www.sensopart.com.
Contact:
SensoPart Inc.
Web: www.sensopart.com
Rachel Ballard
Tel.: +1-866-282-7610
E-mail: marketing.usa@sensopart.com
More from Sensors, Monitors & Transducers