New Virtually Impenetrable Light Fixtures Offer Steel Housings
Press Release Summary: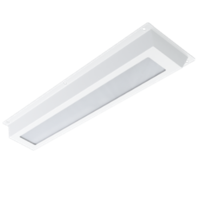 Available in SSAS ceiling mount, CCS corner-mount, WCHS wall-mount and WCUS wall-mount with uplight options
Include LEDs that designed to last for up to 85,000 hours (10 years) of continuous use
Offer smaller housing optimized for cells and secured to the wall or ceiling surface with 6 high-security bolts
---
Original Press Release:
Kenall Introduces New, Virtually Impenetrable Light Fixtures for Correctional Facilities
KENOSHA, WIS. (PRWEB) FEBRUARY 24, 2020 - Kenall Manufacturing has introduced a new family of virtually impenetrable lighting fixtures that have no access points of any kind, including doors and hinges. Created specifically to keep staff and inmates safe, these luminaires are impervious to vandalism and contraband concealment.
Challenged by a customer to create a truly vandal-proof fixture, Kenall engineers created the Mighty Mac™ SSAS ceiling mount luminaire, the CCS (corner-mount), WCHS (wall-mount) and WCUS (wall-mount with uplight). The heavy-duty housings are manufactured from a single piece of steel, virtually preventing entry once the light fixtures are installed. Inside, long-Life LEDs are designed to last for up to 85,000 hours (10 years) of continuous use, service-free. Lenses are made of the toughest materials available and kept in place with a special bracket system fastened to the housing with through-studs. The entire fixture is secured to the wall or ceiling surface with 6 high-security bolts, making it virtually impenetrable.
Personal safety was the number one priority for Kenall's design team: "We wanted to create a fixture that would not allow any entry at all," said Bill Blackley, Senior Director of Marketing. "Because not all correctional light fixtures are made with Kenall's signature quality, over the years, inmates have gained access to such unsecured fixtures and used them as hiding places, or as weapons. But LED lamps allow us to create a luminaire that requires no service for 10 years or more. If you don't need to change a lamp, you don't need a door. You bolt the luminaire in place and they can't get in."
These unique Mighty Mac luminaires also offer a smaller housing optimized for cells, making them less intrusive. The luminaires are already being incorporated into high-profile projects, including the new Lansing, Kansas correctional facility. The first of their kind, these new fixtures introduce an unprecedented level of security for both staff and inmates at Lansing.
About Kenall
Kenall Manufacturing, an independent sector of Legrand, was founded in Chicago, Illinois in 1963 and has built a reputation for durable lighting solutions of superior quality and exceptional value. Today, the company creates unique solutions for the healthcare, cleanroom/containment, food processing, transportation, high abuse, and correctional lighting markets. Kenall luminaires are designed in Kenosha, Wisconsin, and comply with the Buy American Act (manufactured in the United States with more than 50% of the component cost of US origin). For additional information, visit http://www.kenall.com.
About Legrand and Legrand, North and Central America
Legrand is the global specialist in electrical and digital building infrastructures. Its comprehensive offering of solutions for use in commercial, industrial, and residential markets makes it a benchmark for customers worldwide. Legrand reported sales of approximately $7.1 billion (USD) in 2018. Legrand has a strong presence in North and Central America, with a portfolio of well-known market brands and product lines that includes AFCO Systems, C2G, Cablofil, Chief, Da-Lite, Electrorack, Finelite, Kenall, Luxul, Middle Atlantic Products, Milestone AV, Nuvo, OCL, On-Q, Ortronics, Pass & Seymour, Pinnacle, Projecta, QMotion, Quiktron, Raritan, Sanus, Server Technology, Solarfective, Vaddio, Vantage, Wattstopper, and Wiremold. Legrand is listed on Euronext Paris and is a component stock of indexes including the CAC40, http://www.legrand.us.
Related