New View 51 and AH T600 PC Cases Available in Black or White Versions
Press Release Summary: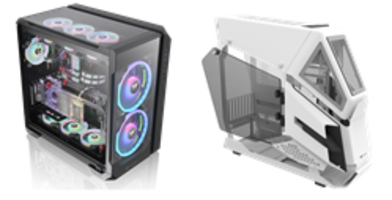 View 51 is designed to fulfill gamers who love hardcore water-cooling
Features two 200mm ARGB PWM fan at the front of the case and one 120mm ARGB fan at the rear as a standard option
AH T600 obtains super-strong airflow by supporting ten 120mm fans or seven 140mm fans for cooling efficiency
---
Original Press Release:
Thermaltake Unveils View 51 TG ARGB Mid-Tower and AH T600 Open Frame Full Tower PC Cases at CES 2020
View 51 design for custom liquid cooling, AH T600 is a military-style open frame chassis, two cases for one gamer-centric concept
Walnut, Calif. (PRWeb) January 06, 2020 -- Thermaltake, the leading PC DIY premium brand for Cooling, Gaming Gear, and Enthusiast Memory solutions, is excited to announce the launch of View 51 TG ARGB mid-tower and AH T600 TG open frame gaming chassis and will be showcased in Thermaltake booth in CES 2020. View 51 and AH T600 reflect the determination from Thermaltake to create a broader range of enthusiastic gaming cases which are based on gamers, modders and enthusiasts' demands. View 51 is designed to fulfill gamers who love hardcore water-cooling while AH T600 makes a bold statement as open frame chassis concept utilizing a leading-edge aesthetic and powerful air-cooling design.
View 51 that tailor-made for advance water cooling and features two 200mm ARGB PWM fan at the front of the case and one 120mm ARGB fan at the rear as a standard option. The case is wrapped in three sheets of 4mm tempered glass panels for a transparent view into the front, side and top. Combined with support for quad 360mm radiators at the top, front, side and bottom of the case, the smoked tempered glass and RGB fans contrast perfectly against the View 51's DUAL-CHAMBER design available in either black or white.
A golden rule when creating a custom PC build is keeping things clean, hiding cables, perfect tubing runs and sensational RGB lighting. View 51 case design is based on two chambers. One side of the case is wrapped in tempered glasses on the top, side and front allowing the entire build to be in full view including glowing pipes and RGB lighting components. The other space is hidden behind a brushed finish aluminum panel for cable management while also hiding the storage system and PSU making the View 51 a modders paradise.
AH T600 Full-Tower open frame chassis with unparalleled air-cooling ventilation design
Thermaltake TT Premium proudly presents their first-ever military-inspired Full-Tower open frame chassis, AH T600, which comes in both black and white versions. AH T600 is forged with a sturdy, air-force style architecture, wrapped with the three tempered glasses panels at the front and top of the chassis along with solid steel side vents for extra air ventilation. Front panel I/O ports are located on the top-front panel with a futuristically designed power button, followed by the hollowed-out honeycomb grills. Constructed with a 5mm tempered glass hinged doors on the left and right, AH T600 obtains super-strong airflow by supporting ten 120mm fans or seven 140mm fans for unbelievable cooling efficiency. Water cooling enthusiasts will enjoy support for Thermaltake Pacific DP100-D5 Plus RGB liquid cooling distribution plate and its dismantlable modular design allows users the freedom to create their own design using any combination of RGB lighting fans, components and cooling.
Thermaltake View 51 TG ARGB and AH T600 open frame chassis will be launched in January and showcased in the Thermaltake CES2020 booth as a live demo display. Thermaltake CES booth will take place at The Venetian, Lvl 2 – Veronese 2402 (3355 S Las Vegas Blvd, Las Vegas, NV 89109). The period is from Jan. 7th to 10th, 09:00-16:00.
About Thermaltake
Thermaltake launched in 1999, first specializing in air cooling and successfully debuting the world's first turbine air cooler, the "Golden Orb". Since then, Thermaltake has taken the world by storm and become the leader in computer hardware and peripherals in the DIY PC market. Homing in on their 3 main lines ("Key 3"), Thermaltake delivers seamless cases, power supplies, and cooling products.
The "Key 3 Spirit" represents Thermaltake's promise toward its users; the promise to provide products that display "Quality Performance & Reliability". The "Key 3 Spirit" is the foundation for all Thermaltake products, and is the reason for Thermaltake's continuous success worldwide. Learn more at http://www.thermaltake.com
About TT Premium
TT Premium offers the most comprehensive liquid-cooling and modding online shopping experience. The platform yields exceptional high-end products and services to customers around the world. Thermaltake TT Premium includes several case modding products that support VR gaming systems. All products are backed by Thermaltake's core values: excellent quality, unique design, diverse combinations, and boundless creativity. Thermaltake TT Premium has expanded its footprint to 100+ countries and territories by creating a seamless network connecting 5 markets: the U.S., Europe, Australia, Taiwan, and China. Learn more at http://ttpremium.com/
Tt LCS Certified
Tt LCS Certified is a Thermaltake exclusive certification applied to only products that pass the design and hardcore enthusiast's standards that a true LCS chassis should be held to. The Tt LCS certification was created so that we at Thermaltake can designate to all power user's which chassis have been tested to be best compatible with extreme liquid cooling configurations to ensure you get the best performance from the best features and fitment.
Follow Thermaltake Global
Facebook: https://www.facebook.com/ThermaltakeInc/
Instagram: https://www.instagram.com/thermaltake_global/
Twitter: https://twitter.com/ThermaltakeInc
YouTube: https://www.youtube.com/user/Thermaltakereview
Website: https://www.thermaltake.com/
Follow Thermaltake USA
Facebook: https://www.facebook.com/ThermaltakeNA/
Instagram: https://www.instagram.com/thermaltakeusa/
Twitter: https://twitter.com/Thermaltake
YouTube: https://www.youtube.com/channel/UCpZZZitBcdR4cItBVGKNvYg
Website: https://www.thermaltakeusa.com/
LCGS: https://lcgs.thermaltakeusa.com/
Media Contact:
Andrew OuYang
8182824968
iDée Creatives Marketing Consulting Inc. on behalf of Thermaltake USA
[email protected]