New VERICUT Software Version 9.0 Offers Robust Connections to Tooling Databases
Press Release Summary: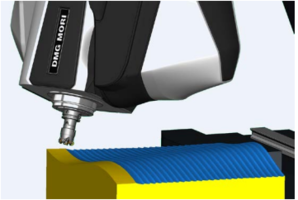 Simulates all types of CNC machining, additive and hybrid manufacturing processes
Operates independently and can be integrated with leading CAM systems
Designed to increase power and improve efficiency including new graphics engine
---
Original Press Release:
The Next Generation of VERICUT - Version 9.0
Irvine, CA - CGTech is pleased to announce the latest release of VERICUT software, Version 9.0. VERICUT CNC machine simulation, verification, and optimization software simulates all types of CNC machining, additive, and hybrid manufacturing processes. The software operates independently, but can also be integrated with leading CAM systems.
"VERICUT 9.0 is 'smarter' than previous versions, offering more robust connections to tooling databases and the latest CAM systems," says Gene Granata, VERICUT Product Manager. "Most users will also experience gains in performance, especially when simulating Additive or hybrid AM operations. Enhancements to VERICUT's free Reviewer app lets programmers share with others (like machinists or Quality Assurance personnel) how parts are manufactured."
VERICUT 9.0 features several enhancements designed to increase power and improve efficiency, including a new graphics engine. Users will experience sharper, clearer and more realistic views of machines and the machining process. Hundreds of customer-driven enhancements and software change requests were also completed.
Enhanced Graphics Display
VERICUT 9.0's greatly enhanced image quality makes it easier to spot problems and imperfections in machined parts. Switch seamlessly between Workpiece, Machine or Profile views, or combine them in a variety of view layouts.
Streamlined Verification
Any of VERICUT's major functions, such as AUTO-DIFF, Section, and X-Caliper, can be used in any view which streamlines the verification effort and increases productivity.
Force Optimization
Use Force "Analyze", without any prior configuration, to spot potentially dangerous machining conditions or identify underutilized tools. Force Charts has a new "Fill Comparison" option to help visualize the changes made by Force optimization to feed rates and chip loads.
Appearance Settings
Appearance settings accompany the "Color" option for components and models, and can be used to add realism to objects in VERICUT simulations. Machined parts look more lifelike and identification of errors or incorrect cuts has become easier. 
Enhanced Translucency and New Stock/Design View
New features are available to quickly display the Design part embedded in translucent Stock, and show AUTO-DIFF Gouge or Excess errors in relation to the Design part or cut stock model. 
X-Caliper
X-Caliper has several new measurements, and features that provide greater control over how measurements (dimensions) are shown. Images with dimensions can be printed, saved to an image file, or utilized in Setup Plans. 
Setup Plan
A new Setup Plan capability makes it easier than ever to create images from the simulation with dimensions or notes that help others understand the manufacturing process. Setup Plans are easily incorporated in VERICUT's reports to document operation setups, or how machined parts should look at various stages. 
Multi-Tool Station
The new Multi-Tool Station tool component has been added in Tool Manager, enabling users to setup an apparatus that holds multiple tools, attached to a single turret station. 
Tool Change List Panel
Tool Change List panel is enhanced with capabilities to graphically setup tools on turrets, in toolchains, define orientations for "Flash" multi-function tools, and more. 
Reviewer App
VERICUT's Reviewer application is powered by the same enhanced graphics engine featured in VERICUT Verification, and users will also immediately notice the dramatic boost in performance.
New Section Window
The new Section window is easier to use with dynamic section plane locations and angle adjustments. 
About CGTech
CGTech's VERICUT® software is the standard for CNC simulation, verification, optimization, analysis, and additive manufacturing. CGTech also offers programming and simulation software for composites automated fiber-placement, tape-laying, and drilling/fastening CNC machines. VERICUT software is used by companies of different sizes in all industries. Established in 1988, and headquartered in Irvine, California; CGTech has offices worldwide. For more information: visit the CGTech website at cgtech.com, call (949) 753-1050, or email info@cgtech.com.
Contact:
Virginia Steverson
949-753-1050
Virginia.Steverson@cgtech.com
More from Test & Measurement