New Vector - Target Acquisition and Communications System is Designed for Maritime Operations
Press Release Summary: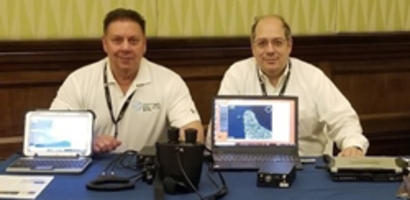 Provides satellite datalink that enables user to communicate via voice, data, or text
Features an integrated laser range finder that enables users to point and shoot at targets of interest
Offered with Locorum graphic user interface that automatically places an icon to represent precise geolocation of target on a map view
---
Original Press Release:
DeVilliers Technology Solutions Launches Adaptive Maritime Location System
High Tech Partnership Combines Accurate Geolocation with Simple and Intuitive Design
STAFFORD, VA. (PRWEB) APRIL 18, 2019 - DeVilliers Technology Solutions and 5x Systems introduced their new command and control (C2) system designed to enhance maritime domain awareness at the recent at the Caribbean Basin Coastal Surveillance and Maritime Security Summit (CABSEC) held recently in Barbados. The two companies partnered to develop V-TACS (Vector – Target Acquisition and Communications System) with a graphic user interface called Locorum: Latin for location.
Dr. Edward DeVilliers, President DeVilliers Technology Solutions (DeVil-Tech) said, "V-TACS/Locorum is well suited for maritime operations due to its ability to geolocate and track boats on a global network. The satellite datalink provided by V-TACS enables users the ability to communicate via voice, data, or text. With an integrated laser range finder, users point and shoot at 'targets of interest,' and then Locorum automatically places an icon representing that target's precise geolocation on a shared map view." DeVilliers went on to say, "We designed Locorum to be simple and intuitive. The entire system was optimized for coastal patrol aircraft and patrol boats. The system has to be easy to use, reliable, and equally important affordable."
Interest in the V-TACS/Locorum system was high and very well received by CABSEC summit attendees, mostly military and government officials from Caribbean and Central American countries. "The exciting and unique thing about this system is that it can work with other C2 systems and other commercially available hardware. This not only makes V-TACS/Locorum more affordable, but also allows our customers to leverage previous investments," said DeVilliers.
Both 5x Systems and DeVilliers Technology Solutions are privately owned start-up companies founded by former military officers and defense industry executives. Both companies also employ defense industry engineers with decades of experience. "We recruited the best engineers and operators because they both understand the importance of mission-critical systems and so designed V-TACS/Locorum to be robust and reliable every time," said Dr. DeVilliers.
About DeVil-Tech 
DeVilliers Technology Solutions LLC (dba DeVil-Tech) is a minority- and service-disabled Veteran-owned systems engineering and software development company in Stafford, Virginia. Founded in 2012 by Dr. Edward M. DeVilliers, DeVil-Tech provides engineering services, consulting and product development. DeVil-Tech is a registered vendor to Federal agencies, such as the Department of Defense (DoD), the National Security Agency (NSA), and the National Aeronautics and Space Administration (NASA), as well as State and commercial firms. The company's experience in complex DoD command and control systems also translates into valuable solutions for the commercial world.
For more information about DeVil-Tech visit the website at https://devil-tech.com or connect with them at Facebook/DeVilTechSolutions, Twitter/DeVilTechSolns, and LinkedIn.com/devilliers-technology-solutions-llc.
More from Electrical Equipment & Systems