New UV-C Disinfection Device is Compatible with Any Hand Sanitizer Dispenser
Press Release Summary: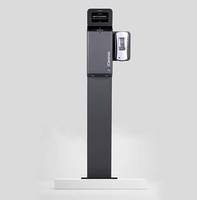 Equipped with UV-C LED disinfection technology
Kills 100% of pathogens, including Coronavirus, the common cold, and Influenza in just 15 seconds
Ideal for fast-paced environments, like restaurants, airports, and hospitals
---
Original Press Release:
iCleanse, Leader in Chemical-Free UV-C Disinfection, Announces Next Generation Swift UV for Mobile Phones
New Patented Swift UV is Smallest & Quickest Way to Disinfect Smartphones On-the-Fly, Killing 100% of Pathogens, Including Coronavirus, Common Cold, & Influenza in Just 15 Seconds
March 31, 2021 1:00 PM ET, Avon, CT — iCleanse www.icleanse.com (formerly ReadyDock), the leader in chemical-free UV-C disinfection technology for over 10 years, announced today the new patented Swift UV, the smallest and quickest way to disinfect smartphones, killing 100% of pathogens, including Coronavirus, the common cold, and Influenza in just 15 seconds. The Swift UV is the latest chemical-free UV-C disinfection device from iCleanse under the new CEO leadership of Chris Allen, for use with mobile phones in hospitals, retail stores, restaurants, airports, and more.
Swift UV High-Speed Disinfection Prevents the Spread of Viruses among Employees & Customers
"The new iCleanse Swift UV will change the way we think about disinfection on the fly," said iCleanse CEO Chris Allen. "It's the easiest way for businesses to prevent the spread of viruses amongst employees and customers. By disinfecting our smartphones, we help break the cycle of acquiring and passing along viruses, which is essential these days."
The Swift UV is ideal for fast-paced environments, like restaurants, airports, and hospitals. Just place the Swift UV in points of entry, where staff, customers, and patients can quickly and effectively kill germs on their phone, keeping themselves and others safe. The iCleanse Swift UV is also compatible with any hand sanitizer dispenser. Simply mount the hand sanitizer to the included plate to ensure no cross contamination.
Equipped with Highest Level UV-C LED Disinfection Technology
iCleanse uses cutting-edge technology for high-speed efficacy, including Crystal IS Klaran UV-C LEDs, which emit deep ultraviolet (UV-C) light in the peak germicidal wavelength range of 260nm to 270nm to target viruses. Klaran UV-C LEDs are compact, high performance devices that turn on instantly, so users in fast-paced environments can disinfect their mobile phones quickly and effectively. "We're proud to see Klaran UV-C LEDs in the iCleanse Swift UV," said Larry Felton, President, Crystal IS. "Klaran UV-C LEDs have been proven to inactivate high profile viruses, such as SARS-CoV-2 and influenza, as well as other dangerous pathogens. When it comes to Swift UV, it's exciting to see our product in an innovative solution which can provide convenient on-demand disinfection to prevent the spread of germs."
 
Pricing and Availability
The Swift UV is available for pre-order immediately, priced at $1495. For more information on the Swift UV, please visit: https://icleanse.com/icleanse-swift-uv. See broadcast of product launch at: https://www.youtube.com/watch?v=rQdHPd44OoY.
 
About iCleanse
Trusted by over 100 U.S hospitals, iCleanse (formerly ReadyDock) provides chemical-free UV-C technology that kills 99.99% of coronavirus and other pathogens (lab tested against OC43, a surrogate of COVID-19). iCleanse offers a variety of products for every type of business and workflow. iCleanse products disinfect high-touch surfaces, such as mobile phones and tablets, as well as stethoscopes, body cams, CB radios, and other items used daily. All iCleanse products are "Made in the USA." For more information please visit: www.icleanse.com.
About Crystal IS
Crystal IS, an Asahi Kasei company, is a pioneer in the development and commercialization of high performance UV-C LEDs based on its proprietary Aluminum Nitride (AlN) substrate technology. The Crystal IS Klaran product line of UV-C LEDs provide effective, reliable, on-demand disinfection in a variety of applications that enhance and sustain life and living around the world. Learn more by visiting: www.cisuvc.com.
Broadcast of Launch:
YouTube: https://www.youtube.com/watch?v=rQdHPd44OoY.
Linked-In: https://www.linkedin.com/events/icleanseliveevent-newrevolution6780908212641140736/
Facebook: https://www.facebook.com/events/859518801278523

PR Contact:
Karen Thomas/Eva Yutani, Thomas PR
(631) 549-7575
Emails: kthomas@thomaspr.com / eyutani@thomaspr.com
Website: http://www.thomasprsocial.com http://www.thomaspr.com
More from Thermal & Heating Equipment