New Utility Cable Reel Trailers Capable to Load up to 120" Diameter Reel
Press Release Summary: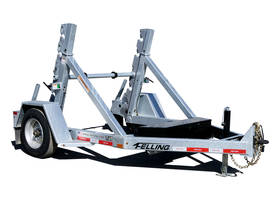 Offers payload capacities ranging from 1,740 lbs. to 13,520 lbs.
Provides versatility and functionality needed for transporting, deploying and retrieving material
Optimizes operator and transport safety
---
Original Press Release:
Felling Trailers Releases Re-Engineered Utility Reel "R" Series
(Sauk Centre, Minnesota, October 17th, 2022) –The Felling Trailers' Utility Cable Reel "R" series model lines have undergone design modifications to increase operator safety and ease of use. The most significant update to the model design is the auto-locking reel bar system. The auto-locking reel bar system eliminates the use of pins and brackets; it now utilizes a locking plate system. The new Reel design with the auto-locking system debuted to the Utility/Telecom industry at the 2021 Utility Expo in Louisville, KY. The R series product line offers payload capacities ranging from 1,740 lbs. to 13,520 lbs. All models have the capability to load up to a 120" diameter reel.
Enhanced operator and transport safety, the auto-locking reel bar system's locking plates automatically open when lowering the reel to the ground for unloading. As the reel is loaded and raised, the locking plates automatically close to contain the reel bar. Once the reel is raised to transport position, spring-loaded pins automatically lock the slides into place. When the pins lock, they provide visual validation to the operator that the reel is properly locked for transport. A green marker on the spring-loaded pins is only visible when the reel bar is properly secured. The green indicators can be viewed from the rear-view mirrors of the tow vehicle, making transporting conduit, fiber optic cable, innerduct and many other reel-mounted materials a safe and secure experience for any operator.
The new R series design was released into production in Fall 2022 and will reach full production by the first quarter of 2023. Solid and reliable, Felling's R series continues to offer a broad selection of options and features to ensure the trailer is built to the spec that utilities/municipalities need for their applications."These are quality-built trailers that provide the versatility and functionality that utility workers need for transporting, deploying, and retrieving material," said Felling Trailers Utility & Telecom Product Specialist Mark Rapp.
To learn more about the Utility Reel model line or other Felling Trailer solutions, visit www.felling.com or call 1-800-245-2809.
About Felling Trailers, Inc.
Felling Trailers is a family-owned and operated Full Line Trailer Manufacturer located in Central Minnesota. Started in 1974, Felling Trailers, Inc. has grown from a small shop to a factory and office complex that today covers over 349,000 square feet. Felling's pride and differentiation is its customized trailer division. Its engineers utilize the latest Industry-leading design techniques, and its experienced metal craftspeople use cutting-edge technology to turn its customers' conceptual trailer needs into tangible products. Felling has been providing innovative trailer solutions to the transportation industry for over 45 years. Felling Trailers' current capabilities allow them to provide a high-quality product that is distributed across North America and internationally. Felling Trailers, Inc. is an ISO 9001 Certified Quality Management System Company, WBENC-Certified WBE, and an Equal Opportunity Employer.
For more information, contact 1.800.245.2809, sales@felling.com, or visit them on the web at www.felling.com. Follow them on Twitter (@FellingTrailers), Facebook (Felling Trailers, Inc.), and Instagram.
Contact:
Rebecca Gerads
Senior Marketing Coordinator
Company: Felling Trailers, Inc.
Address: 1525 Main Street South
Sauk Centre, MN 56378
Phone: +1-800-245-2809
E-mail: Rebecca.gerads@felling.com