New Tuckerbilt T-644 Concrete Transporter Features CAN-Based Machine Control Technology
Press Release Summary: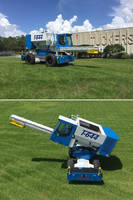 The Tuckerbilt® T-644 Concrete Transporter is equipped with a 108 kW JCB EcoMax engine with four cylinder diesel delivers an output of 145 continuous bhp at 2200 rpm. The unit comes with 14 in. covered auger trough with an infinitely adjustable speed. The hopper with an integrated splash deflector provides a 90° left and right swing on the centerless turntable. T-644 transporter is offered with enclosed climate-controlled cab, cameras and radar for ground crew safety.
---
Original Press Release:
Tuckerbilt Concrete Transporter Runs With JCB From Mastry
Tucker's Machine & Steel Service's new Tuckerbilt® T-644 is the most thoroughly innovative Concrete Transport Vehicle available. Harnessing its JCB EcoMax 320/50704 Stage IV/Tier 4 engine supplied by Mastry Engine Center, it moves its six-yard payload 50% faster and 2' higher than previous models.
Tucker's chose the JCB engine because of its impressive torque and it was offered without a diesel particulate filter. With fewer parts, there's less to fail—an important consideration when operating on a dirty construction site. Additionally, everything needed is on one side of the engine for easy maintenance. Located on the rear of the T-644, it eliminates the need for a counterbalancing weight.
The 108 kW JCB EcoMax engine has a formidable reputation for performance and reliability. The four-cylinder diesel provides an impressive 145 continuous bhp @ 2200 rpm. Twin auxiliary PTOs deliver massive high torque to power the hydraulic pumps, even at lower rpms.
"Our JCB engine support through Mastry has been great," said Matt Tucker, owner. "They listen to our needs and then offer customized solutions. They're prompt with deliveries and have been very helpful after the sale, ensuring our customers are being taken care of."
The 14" covered auger trough of the Tuckerbilt T-644 Concrete Transport Vehicle boasts infinitely adjustable speed for precise pouring. It handles low-slump, standard mix and SCC. The hopper has an integrated splash deflector and swings 90° left and right on its centerless turntable for incredible reaching capabilities. A smart vehicle, it has CAN-based machine control technology with on board diagnostics. The enclosed climate-controlled cab is ergonomic for long days on the job. Cameras and radar ensure exceptional ground crew safety. A video is at bit.ly/2L2pxYY.
Since 1953, Tucker's Machine & Steel Service, Inc., has dominated the pre-press concrete pouring market. Continually introducing market-changing technologies, it has never strayed from its commitment to manufacture dependable products and deliver the finest customer service. Its website is www.tuckerbilt.com.
Contact Mastry Engine Center, 2801 Anvil St. North, St. Petersburg, FL 33710. 727-522-9471; Fax: 727-527-7013. www.mastry.com.
More from Electronic Components & Devices