New True Circular 5.0 in. LCD Offers Dynamic High Contrast Ratio of More Than 1,000,000:1
Press Release Summary: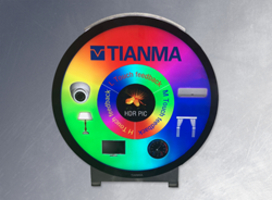 Tianma's True Circular 5.0 in. LCD features 3 mm concentric border and 2.1 mm thin construction. The unit utilizes GFF (glass, film, film) capacitive touch with haptic feedback technology for an enhanced functionality. The LCD module uses mini-LED technology for multi-zone local dimming and delivers resolution of 1080 x 1080.
---
Original Press Release:
Tianma Introduces True Circular 5.0-inch LCD for Use in Smart Home Devices
CHINO, CALIF. (PRWEB) MAY 31, 2018
The Tianma Group has developed a true circular 5.0-inch LCD for smart home and high-end medical applications. The full active display features resolution and contrast ratio performance that rivals that of OLED displays.
Tianma developed this true round LCD prototype as the ultimate expression of the freeform display design style, featuring a super-narrow 3mm concentric border and ultra-thin construction (2.1mm).
For backlighting, the module utilizes mini-LED technology for multi-zone local dimming, achieving a dynamic high contrast ratio of more than 1,000,000:1. The high contrast ratio and high resolution of 1080x1080 make this LCD comparable in performance to OLED technology.
The true circular display uses GFF (glass, film, film) capacitive touch, with haptic feedback technology to enhance the unit's functionality and heighten the user experience.
Tianma expects this prototype to be ready for market by the end of 2019.
For more information, contact Tianma America, Inc., 13949 Central Ave., Chino, CA 91710. 909-590-5833. info@tianma.com; http://www.tianma.com.
About Tianma America, Inc. 
Tianma America (TMA) is the leading provider of small- to medium-size display solutions to the Americas market utilizing advanced technologies and manufacturing resources of the Tianma Group Companies, which includes Tianma Micro-electronics (Shenzhen and Shanghai) and Tianma Japan, Ltd. (formerly known as NLT Technologies Ltd.), as well as manufacturing locations in Chengdu, Wuhan, Xiamen, Shenzhen and Shanghai China. Tianma America technologies can be found in smartphones, tablet PCs, industrial and medical instrumentation, wearables, home automation, household appliances, office equipment, and automotive and rear seat entertainment devices. Additional applications include test and measurement systems, instrumentation equipment, point-of-sale and ATM systems, gaming systems, global positioning systems, radio-frequency identification devices and barcode scanners.
Tianma America's technology portfolio comprises TFT, LTPS, Oxide-TFT, AM-OLED, flexible, transparent, 3D, PCAP and In-cell/On-cell integrated touch. With a network of best-in-class distributors and value-added partners, Tianma America provides complete display module solutions for a broad base of customers and applications.
The content in this press release, including, but not limited to, product prices and specifications, is based on the information as of the date indicated on the document, but may be subject to change without prior notice.
Contact Information
Bill Maurer
Macrovision
http://www.macrovis.com
+1 215-348-1010
More from Software