New TRT-5280 Series Tablet with Swappable Batteries
Press Release Summary: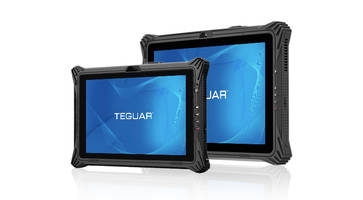 Available in two sizes 10.1 and 12.2 inches
Equipped with Intel Core i7 processor and 16GB of DDR4 RAM
Gorilla glass touchscreen and durable housing protects them from shock and high drops
---
Original Press Release:
New Tablet Series from Teguar Keeps Going, and Going, and Going…
If you want to try to wait out the lifespan of Teguar's new TRT-5280 series of rugged tablets, you're going to be waiting for quite a while.
Teguar is excited to launch a new line of rugged tablet PCs: The TRT-5280 Series. Available in two sizes, 10.1 and 12.2 inches, these rugged tablets bring new and exciting possibilities to our customers. As with all Teguar tablets, the TRT-5280 Series is MIL-STD-810G rated, with Gorilla Glass touchscreen and durable housing that protects them from shock and high drops. They are also IP65 rated to resist water, dust, and other destructive elements.
Swappable Batteries = Long, Continuous Operational Uptime
One of the most exciting aspects of Teguar's new TRT-5280 Series is its ability to continuously run on removable lithium ion batteries. The embedded internal battery has a lifespan of 30 minutes on its own, giving you more than enough time to make a swap so nothing is interfered with. The hot-swappable battery pack also has a secure dual locking mechanism to make sure the battery is fully secured and tightly sealed against the elements. These tablets can keep computing continuously for literal days by charging and staggering the input of these removable batteries.
High Processing Power for Sophisticated Computing Applications
In addition to long and reliable operational uptime, the Teguar TRT-5280 Series of rugged tablets also features an increase in processing power compared to the series of tablets that have proceeded it. The TRT-5280-10 and TRT-5280-12 can both come equipped with an Intel Core i7 processor coming standard with 16GB of DDR4 RAM, allowing for the handling of resource-intensive computing tasks. Combine that processing power with the mobility of a rugged tablet and now you have the ability to run complicated processes in the field, from a construction site, or just about anywhere your work can be done.
Put These Tablets to the Test Today
Does the TRT-5280 Series of rugged tablets sound like the perfect solution for your project? If so, we welcome you to contact our sales team today to request a demo unit today.