New Transducerized Electric Screwdriver Eliminates Manufacturing Risks and Product Defects
Press Release Summary: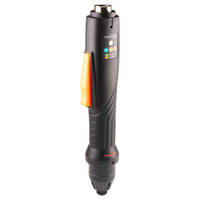 Features built-in sensor that measures torque and feeds data back into the system
Safeguards against fastening failures for quality-minded engineers
Offers product oversight with a built-in screw counter and error-proofing software
---
Original Press Release:
Mountz Introduces New e-Driv® ECT-Series Transducerized Smart Electric Screwdrivers
The Error-Proofing Tools is Engineered for Precise, Accurate and Repeatable Torque Control
San Jose, Calif., – Mountz, the torque tool specialist®, introduces a new intelligent electric screwdriver system. The e-DRIV® ECT-Series is an all-in-one transducerized smart electric screwdriver solution for process reliability and efficiency with intelligent fastening strategies and high precision torque accuracy. The screwdriver safeguards against fastening failures for quality-minded engineers. The transducerized tool features a built-in sensor that continually measures torque in real-time and feeds data back into the system. The error-proofing system eliminates manufacturing risks and product defects.
The torque control system expedites all aspects of the automation process, from installing error-proofing disciplines to adaptive fastening strategies. A single Mountz DC control automation system replaces up to 15 power tools. The assembly tool reduces tooling costs and improves operations by optimizing a company's manufacturing footprint. A manufacturer can achieve multiple fastening tasks with one tooling system. Mountz intelligent screwdriver system offers maximum production results and product oversight with a built-in screw counter and error-proofing software. And by providing documented fastening results, Mountz DC control tools also make regulatory compliance effortless.
The ECT fastening systems allow an engineer to establish automated fastening workflows and sequencing events, ensuring the correct torque is delivered, time after time. Group similar processes and assign a set of standardized tasks: program fastening sequences and torque tolerances for each fastener in a sequence for sensitive and difficult assembly joints. The flexible screwdriver system provides benefits for improving consistency and quality.
Built for critical tightening applications, Mountz offers various handheld and robotic models that range from 2.48 to 442.5 inch-pounds. The tool includes free product software - no annual licensing required—savings of $2K.
The screwdriver system provides error-proofing capabilities that track each screw tightened. Program the controller not to clear an assembly until the completion of all the fastening events. When a fastening error occurs, the torque control system will detect it, flag it, and prevent the product from moving further down the line. The Industry 4.0 error-proofing tool has I/O interfaces that enable manufacturing integration for line control monitoring techniques. The IoT connected automation tool improves production and quality by collecting and storing data and providing real-time transparency in a manufacturer's assembly operations.
About Mountz, Inc.
Mountz, Inc. produces a wide variety of torque tools, including torque analyzers, torque testers, torque sensors, torque wrenches, electric screwdrivers, pneumatic screwdrivers, torque screwdrivers, torque multipliers, assembly tools, pulse tools, screw counters, tool balancers and special torque applications.
As The Torque Tool Specialists®, Mountz has been a leader in the torque tool industry for more than 56 years. Engineered in the Silicon Valley and serving the globe, Mountz focuses on delivering high quality torque products, services and solutions to ensure customers can always proceed with confidence. The company is committed to forging a safer world through precision and accuracy, and by innovating every day.
Learn more about Mountz and shop the ecommerce store at www.mountztorque.com.
For more information on e-Driv® ECT-Series Transducerized Smart Electric Screwdrivers
Press Contact
Chris Morris
chris.morris@mountztorque.com
Phone: (408) 207.4333
www.mountztorque.com
Subscribe and follow the Mountz Blog
More from Software