New Tool Kit for MCT Cutter from Gerber Technology for Packaging Finishing Applications
Press Release Summary: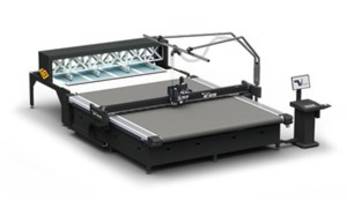 Gerber Technologies new tool kit is designed for its packaging and finishing machinery. The mechanical toolsets include the 5Kw router, 6-inch creasing wheel, and heavy-duty oscillating knife. The kit's applications include handling corrugated triple and folded cartons, and foam and triple wall packaging materials, as well as uses in the sign and graphics markets.
---
Original Press Release:
Gerber Technology Introduces Tool Kit for MCT Cutter to Improve Efficiency in Packaging Finishing Applications
Attend the Press Conference at the SGIA Expo in Las Vegas at Booth #417, 4:15pm on Oct. 18 to Learn More
TOLLAND, Conn., Oct. 18, 2018 /PRNewswire/ -- Gerber Technology announced the debut of a new tool kit designed specifically for packaging and finishing applications at SGIA. This is in conjunction with their acquisition of MCT Digital announced on Oct. 1, 2018. The combination of these companies unites the engineering expertise and innovation of two leading players in the sign and graphics and packaging industries.
This year represents Gerber's 35th year participating in SGIA and it will celebrate this achievement with demonstrations of two Gerber MCT Cutters with TigerVision software each showing the systems versatility in the sign and graphics and packaging markets. One system will showcase wide-format, high-speed laser cutting and the other will show its mechanical toolsets including a new line of packaging tools including a 5Kw router, 6-inch creasing wheel, and heavy-duty oscillating knife. 
These tools are designed to address corrugated triple and folded carton, foam and triple wall packaging materials.
"This new tool kit expands the versatility of the Gerber MCT Cutter," said Scott Schinlever, president and chief operating officer, Automation Solutions for Gerber Technology. "It's an ideal solution for our packaging customers especially those with short run or sample run production needs."
The Gerber MCT Cutter will be on display at the SGIA show Oct. 18-20 at booth #417 in the Las Vegas Convention Center.
About Gerber Technology
Gerber Technology delivers industry-leading software and automation solutions that help apparel and industrial customers improve their manufacturing and design processes and more effectively manage and connect the supply chain, from product development and production to retail and the end customer. Gerber serves 78,000 customers in 134 countries, including more than 100 Fortune 500 companies in apparel and accessories, home and leisure, transportation, packaging and sign and graphics. The company develops and manufactures its products from various locations in the United States and Canada and has additional manufacturing capabilities in China.
Based in Connecticut in the USA, Gerber Technology is owned by AIP, a New York based, global private equity firm specializing in the technology sector and has more than $3.0 billion assets under management. Visit www.gerbertechnology.com for more information.
More from Software