New Tool Head Designed With Universal Mounting System
Press Release Summary: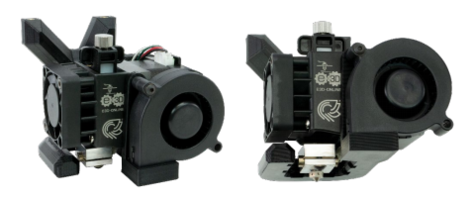 Features a dual-drive, hardened stainless steel drive train
Allows for rapid changes of Tool Heads; each designed for specific tasks and filament diameters within the LulzBot ecosystem
---
Original Press Release:
New LulzBot Tool Head Adds Even More 1.75mm Versatility to the LulzBot Line
FARGO, NORTH DAKOTA, USA – LulzBot® announced the availability of the LulzBot H175 Series Tool Head today. The new H175 Tool Head enables 3D printing the extensive variety of 1.75mm materials compatible with LulzBot desktop 3D printers. 
As with all of LulzBot's new Tool Heads, the H175 has been designed with the Universal Mounting System, making it a drop in upgrade for the current line of LulzBot 3D printers. It also allows for rapid changes of Tool Heads; each designed for specific tasks and filament diameters within the LulzBot ecosystem. Even owners of the legacy LulzBot TAZ 6 can make the H175 Tool Head compatible with the addition of the Universal Tool Head Adapter, available from LulzBot.
The new LulzBot H175 Tool Head features a dual-drive, hardened stainless steel drive train with a fully constrained short filament path combined with the reliable E3D V6 hot end. The E3D Hemera extruder on the H175 provides unrivalled precision by giving excellent control over stops and starts; considerably reduced stringing and blobbing; and greater filament traction, which means slipping and grinding filament are a thing of the past! Material changes are easy using the quick release lever. A conveniently accessible thumbscrew tensioner allows the you to fine-tune the pressure exerted by the drive gears onto the filament.
The E3D Hemera heatsink on the H175 optimizes airflow using die-cast fins. Airflow is directed up and away from both the hot end and the heated bed, meaning airflow does not disrupt the print envelope. This reduces the risk of warping and uneven stresses forming in the printed part.
The sturdy fan duct has been designed for maximum efficiency using airflow analysis to ensure even 360° part cooling. The fan duct also provides a direct view of the printing surface, so you can inspect layer quality during printing.
John Olhoft, President of LulzBot, says this about the new Tool Head, "With the addition of the H175 Tool Head lineup, LulzBot continues to deliver the reliability, repeatability, and performance our users have come to expect."
The consistency of manufacture and compact assembly of the H175 Tool Head come together to form an excellent general-purpose Tool Head for printing a broad range of 1.75mm materials from nylon or soft flexible materials to PLA and rigid carbon-filled high-strength materials.
Choose from the growing line of LulzBot Universal Mount System Tool Heads from LulzBot.
LulzBot's dedication to open-source means users can easily and affordably replace any worn components by downloading the files from the LulzBot GitLab.
All LulzBot 3D printers and Tool Heads are built to last with quality components in Fargo, North Dakota, USA. The company also has an active user community, with thousands of members sharing new tips, tricks, and hacks on the LulzBot Forum.
Learn more today at LulzBot.com
H175 Ordering Information
The LulzBot H175 is available for order August 17th at LulzBot.com and begins shipping the same day.
Praise for LulzBot 3D Printers
LulzBot desktop 3D printers are acclaimed by critics and customers alike for reliability, robustness, respect of user freedom, ease of use, excellent customer support, and extensive documentation.
About LulzBot
Your Imagination Built by LulzBot®. LulzBot was founded in January 2011 in Loveland, Colorado. In 2019, LulzBot became part of FAME 3D and is located in Fargo, North Dakota, USA, where all development, manufacturing, and support for the award-winning line of LulzBot 3D Printers used in rapid prototyping, additive manufacturing, education, industry, military, and by consumers everywhere.
More from Architectural & Civil Engineering Products