Accounting and Financial Software
New Tipalti Multi-FX Software Ideal for Foreign Exchange and Currency Management
Press Release Summary: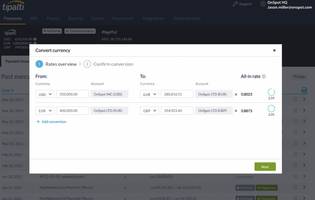 Seamlessly and securely manage accounts payable data at entity level
Allow visibility control and access for an optimized workflow
Ensure better audit preparedness, improving financial and fraud controls
---
Original Press Release:
Tipalti Simplifies Multi-subsidiary Payables and Entity Funding to Help Fast Growing Businesses Take The Complexity Out of Global Financial Processes
San Mateo, CA., Tipalti, the leading global payables automation platform, has announced new capabilities that will make it easier for companies with global subsidiaries to seamlessly and securely manage their accounts payable data and processes at the entity level, while also simplifying foreign exchange and currency management requirements.
As businesses grow and evolve, they often add entities by entering new markets, acquiring other businesses, or adding new products and services to diversify revenue streams. This organizational structure creates complex accounts payable structures for the finance organization to manage, introducing inefficiencies, and exposing the organization to fraud and compliance risk. The complexities quickly become time-consuming, are error-prone, and require manual processes to manage payees, payables tax flows, invoices, purchase orders, approvals, and payments across individual subsidiaries in a multi-entity environment with little or no visibility at the corporate level. The resulting delays can have a significant impact on payments, financial reporting, and reconciliation delaying financial close.
To manage risk and ensure proper internal controls across the organization, businesses need to segregate payables data between different entities, whether they are lines of business, departments, or brands. Risk of fraud and accounting errors are much more common when businesses do not have a clear segregation between their different entities.
Tipalti Multi-Entity enables businesses to manage their AP processes across multiple entities with a consolidated headquarter payer account. Tipalti's new capabilities:
Allow visibility control and access for an optimized workflow: users can only view and process invoices for the entities they manage, keeping them focused on their own bill data
Ensure better audit preparedness, improving financial and fraud controls
Deliver subsidiary-specific communications to payees with the subsidiary's email address and branding
"When we started towards full automation, we decided to implement Tipalti across the entirety of our organization due to the ability to have the multi-entity set-up, the international payment set-up, and just the ease with how Tipalti handles this," said Bradley Clifford, Assistant Controller at Stack Overflow. "If we open up any offices in the future, this is a system that we've got in place that allows us to do that, because it's super simple to add another entity into the system, and then we're up and running straight away."
For international companies with multiple subsidiaries, funding these various global entities can be a time-consuming process and a costly one, often requiring multiple banking and financial institution relationships and manual processes.
With the latest enhancements to the Tipalti Multi-FX module, the process for managing intercompany bank transfers has been significantly simplified. Tipalti Multi-FX eliminates the need to maintain multiple regional bank accounts solely for payouts and disbursements, providing one central virtual account to manage payments across all subsidiaries, currencies, and payment methods. The capability is built-in, easy to use, and fully automated, with a self-serve capability in Tipalti to convert currencies for entities, with live and transparent exchange rates.
The enhanced Multi-FX offering:
Gives businesses access to live foreign exchange rates and enables full transparency to track currency conversion status
Helps avoid expensive, complex, and tedious bank conversion and transfer processes across multiple bank accounts by enabling self-service execution of transfers directly within Tipalti
Supports over 30 currencies
"We have vendors paid in all different currencies, and when we moved to Tipalti we set up funding accounts in each of these currencies to avoid taking a hit on those exchange rates," said Toni Tornell, Controller at United Language Group. "With Tipalti Multi-FX, instead of paying from a USD account to a GBP account, now we can pay directly from our GBP U.S. account to the vendor's GBP account. So there's no currency conversion happening there, which is better for us and better for our vendor."
"Tipalti has played a big part in minimizing the FX impact, we now have a better process so that we can fully maximize our savings," said Frank Pepe, VP of Finance & Treasurer, Younique Products. "We've been able to significantly reduce merchant processing and FX repatriation fees.
"It is critical that companies with global subsidiaries are able to securely manage their AP processes," said Roby Baruch, Chief Product Officer at Tipalti. "Our Multi-Entity and Multi-FX capabilities help prevent fraud and manage payable and intercompany transfer processes, while giving finance teams the time back for more strategic work to continue growing the company. It's like having a fully-auditable, streamlined treasury workflow inside your business."
About Tipalti
Tipalti comes from the Hebrew expression for "We handled it." Tipalti is the only company handling both Accounts Payable and Mass Pay workflows for high-velocity companies across the entire financial operations cycle: onboarding and managing the global supply chain, instituting procurement controls, streamlining invoice processing and approvals, executing payments around the world and reconciling payables data across a multi-subsidiary finance organization. Tipalti enables high-growth companies to scale quickly by making payables strategic with operational, compliance, and financial controls. Companies can efficiently and securely pay thousands of partners and vendors in 196 countries within minutes. Thousands of companies, such as Amazon Twitch, GoDaddy, Oscar Insurance, Roku, Wordpress.com, and ZipRecruiter, use Tipalti to reduce operational workload by 80 percent and accelerate the financial close by 25 percent, while strengthening financial controls and spend visibility. For more information, visit tipalti.com
Tipalti Multi-FX provides convenient direct currency conversion to funding accounts, eliminating the need to wire funds from one regional bank to another. Finance teams can also lock in on favorable rates, which Tipalti is able to negotiate at scale on behalf of its thousands of customers.
Contact:
Monique Pelletier
Account Director
785 Market Street, Suite 900
San Francisco
CA 94103-2001, USA
T: +1-415-610-7500
M: +1-513-375 9022
www.brands2life.com
More from Communication Systems & Equipment