New TimberLineTM HDPE Sheets Available in Whitewash and Teak Colors
Press Release Summary: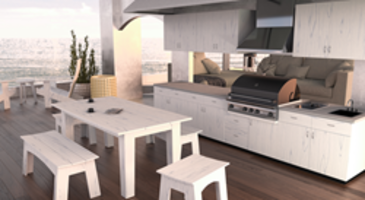 Natural and streaking variation make it realistic and clearly visible at a distance
Available in a standard sheet sizes of 54" x 96"
Timberline is used to create a range of durable elements including outdoor furniture, cabinetry, kitchens and trim
---
Original Press Release:
Vycom Introduces TimberLine Woodgrain Sheets for Naturally Appealing Outdoor Spaces
Vycom introduces TimberLine woodgrain sheets for naturally appealing outdoor spaces
Scranton, PA. (PRWeb) May 29, 2019 -- Vycom Corp., a market-leading manufacturer of highly innovative plastic sheet products, today announced TimberLineTM HDPE (high-density polyethylene) sheets that deliver the most authentic woodgrain color and texture with high durability and creative flexibility for designers and builders of outdoor living environments. TimberLine samples – in the form of target applications such as furniture and cabinetry – will be on display in the Vycom / Scranton Products booth 8116 at the AIA Conference on Architecture 2019, June 6-7 in Las Vegas.
TimberLine is the HDPE sheet product with the most authentic-looking woodgrain on the market and is ideal for replacing wood, polylumber or metal in outdoor applications. It offers a high-end, welcoming aesthetic that is normally achieved with wood but retains its natural color and wood texture for long-lasting enjoyment. Through technologies that offer the highest level of performance and durability, TimberLine is virtually maintenance-free.
Aesthetically appealing for a welcoming atmosphere 
TimberLine is designed to enhance outdoor applications with the natural, upscale, welcoming look of wood. Its natural color converts any outdoor environment into the warm, modern atmosphere customers demand. The woodgrain texture and TimberLine's natural and unique streaking variation make it remarkably realistic and clearly visible at a distance, so outdoor applications will always look just as good as on day one.
Design versatility for a variety of applications 
TimberLine comes in varying thicknesses in both standard and custom sheet sizes to support different applications, opening up a new world of design possibilities. Not only can it be cut to accommodate fluid design features, but it can also be heated and shaped for custom builds, so designers and builders can help their customers create unique outdoor environments.
Timberline can be used to create a wide range of durable elements including outdoor furniture and cabinetry, kitchens and trim; landscape privacy partitions, lattice, patio railings; marine interior cabinetry, hatch covers and flooring; marina cabinetry, fishing stations and lockers; recreational vehicle kitchen elements; playground and adventure living systems; and more.
Sustainability-conscious design for a lifetime of enjoyment 
Like all Vycom HDPE products, TimberLine includes all the essential features of an outdoor building material. Weatherability, insect and moisture resistance, and outstanding durability make it a low-maintenance product. Since TimberLine will not delaminate, chip, rust, rot, or swell, customers can expect to enjoy any outdoor space with long-lasting comfort and ease. TimberLine material is also 100% recyclable.
Availability 
TimberLine materials are initially available in two woodgrain colors – whitewash and teak – with more colors expected to be added early this summer. Standard sheet sizes of 54" x 96" in a variety of thicknesses will be stocked and custom sheet sizes are available by special order.
About Vycom
Vycom, a division of The AZEK Company, manufactures market-leading brands of highly innovative plastic sheet products designed replace wood, metal, and other traditional materials in a variety of applications. The company's extensive inventory and product offerings provide its customers with the convenience of single-source purchasing and the ability to maximize efficiency. Vycom's manufacturing agility places it in a prime position to be the essential partner in creating solutions that optimize quality and performance, and in providing a more sustainable future. http://www.vycomplastics.com
Contact Information:
Kelli Ramirez
Kelli Ramirez Communications
+1 5302638825
Michelle Evans
Vycom Corp.
570-790-3602
More from Material Processing