New Thermal Protection Hose Comes with Mechanical Protection Properties
Press Release Summary: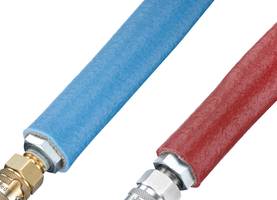 Made from braided textile glass fibre and silicone foam coating
Available in red and blue colours that provides optimum thermal insulation
Can be used at temperatures from -40°C to 220°C
---
Original Press Release:
New Thermal Protection Hose Z8570/... for Greater Safety
Increasing importance is being attached to greater cost-efficiency and occupational safety during production processes. HASCO offers a wide range of solutions for meeting these requirements in the temperature control of injection moulds.
Optimum thermal insulation and outstanding mechanical protection
The new thermal protection hose Z8570/…, made up of braided textile glass fibre and a silicone foam coating, provides optimum thermal insulation and excellent mechanical protection. The excellent sliding properties of the braided glass fibre on the inside of the hose, allows it to be easily pulled over the hoses and bridges.
The HASCO temperature control range contributes significantly to energy saving
The thermal protection hoses available from stock in the colours red and blue can be used at temperatures from -40°C to 220°C. HASCO's perfectly coordinated standard temperature control range makes a valuable contribution to energy saving.
More from Software