New THA240 Inline Automated Applicator is Offered with Pneumatic Gantry System
Press Release Summary: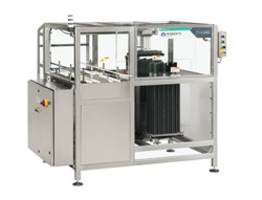 The THA240 Inline Automated Applicator is designed to continuously operate for approximately 30 minutes before the handle magazines need to be replenished. The unit's gantry system picks either six 4-pack handles, or four 6-pack handles from the magazines at a rate of 10 cases per minute. It comes in 55 x 70 in. foot print and a steel frame. The system allows user to reload the handle magazine via the access door while maintaining the operation.
---
Original Press Release:
Roberts PolyPro Introduces Automated Can Handle Applicator for Craft Beer and Spirits
The THA240 inline automated applicator applies handles to four-packs or six-packs at a rate of 10 cases per minute
CHARLOTTE, N.C. (PRWEB) OCTOBER 10, 2018 - Roberts PolyPro, a product brand of ProMach, introduces at Pack Expo, October 14-17 in Chicago, its first fully automated can handle applicator for craft beer and spirits packaging lines that applies handles to four-packs or six-packs at a rate of 10 cases per minute.
The THA240 automated can handle applicator works with the core can types commonly used – slim, sleek and standard sized. The machine features a pneumatic gantry system to pick the handles out of a magazine and place them on the rim of the cans in an intermittent operation. During each pick and place cycle, the gantry system picks either six 4-pack handles, or four 6-pack handles from the magazines and places them on the cans.
Changing over can handles in the applicator is quick and simple. There are no change parts or modifications required to switch between 12 ounce or 16 ounce standard sized cans or handle styles, allowing customers the freedom to easily utilize all sizes if desired without incurring a lot of time or cost. Also, minimal change parts are required to switch from the standard can to the slim or sleek sized cans.
With both sides of the magazine filled, the machine can operate continuously for approximately 30 minutes before the handle magazines need to be replenished. The handle magazines can easily be reloaded through the magazine access door while maintaining operation to minimize downtime.
Other product highlights include easy-to-use controls, which allow the operator to quickly start and stop the machine, saving additional downtime. Additionally, the robust steel frame provides a stable, low vibration platform for long years of service, and its small footprint, only 55 inches by 70 inches, conserves valuable floorspace.
"Designing a machine that make things easy and keeps things moving was our goal. We wanted to provide brewers with a handle applicator that supported them as they scaled up production for off-site distribution but minimized, as much as possible, manual interaction. With 30-minute handle magazine capacity, no other handle applicator currently on the market can match that," says Roy Tetreault, vice president and general manager, Roberts PolyPro. "The THA240 is also designed in a way that makes it a relatively easy add to current operations without suffering much, if any, disruption. It truly is an outstanding solution for craft beer and spirits applications."
Can Handle Highlights
Roberts PolyPro four-pack and six-pack HDPE #2 handles for the THA240 are available in 32 standard colors and feature an open top design, so no moisture accumulates between the can top and handle. The handles are 100 percent recyclable and use up to thirty percent less plastic, making for a more sustainable product.
Stop by Roberts PolyPro at Pack Expo 2018, Booth #S-3540, to see the THA240 automatic can handle applicator live in operation. Also on display will be the HDPE #2 can handles, as well as Roberts PolyPro's full line of manual and semi-automatic can handle applicators. For more information on Roberts PolyPro's comprehensive offering of handles and applicators, contact sales at 800-269-7409 and visit http://www.RobertsPolyPro.com.
About Roberts PolyPro
Beverage, food, and consumer goods companies of all sizes choose Roberts PolyPro for plastic bottle, can, and box handles and application systems. Roberts PolyPro provides innovations that meet the challenges of today's marketplace for multipacking and carrying. As part of the ProMach Filling & Capping business line, Roberts PolyPro helps our packaging customers protect and grow the reputation and trust of their consumers. ProMach is performance, and the proof is in every package. For more information about Roberts PolyPro, visit http://www.RobertsPolyPro.com.
About ProMach
ProMach is a family of best-in-class packaging solution brands serving manufacturers of all sizes and geographies in the food, beverage, pharmaceutical, personal care, and household and industrial goods industries. ProMach brands operate across the entire packaging spectrum: filling and capping, flexibles, pharma, product handling, labeling and coding, and end of line. ProMach also provides Performance Services, including integrated solutions, design/build, engineering services, and productivity software to optimize packaging line design and deliver maximum uptime.
ProMach designs, manufactures, integrates, and supports the most sophisticated and advanced packaging solutions in the global marketplace. Its diverse customer base, from Fortune 500 companies to smaller, privately held businesses worldwide, depends on reliable, flexible, technologically advanced equipment and integrated solutions. ProMach is headquartered near Cincinnati, Ohio, with manufacturing facilities and offices throughout the United States, Canada, Mexico, Brazil, Europe, United Arab Emirates, and China. For more information about ProMach, visit http://www.ProMachBuilt.com.
Contact Information
John Eklund
ProMach, Inc.
+1 (704) 944-5340
More from Cleaning Products & Equipment