New Technologies Includes Europlacer Technology in Its Successful Workshop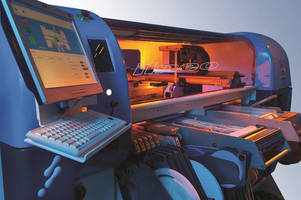 Dorset, UK — Europlacer, a manufacturer of market-leading flexible SMT placement machines, announces that its Russian representatives New Technologies Ltd. recently hosted a workshop during the Radel exhibition, which took place from October 30-November 1 in Saint Petersburg, Russia.



The workshop, "New Technologies in Electronic Manufacturing," was focused on the advanced manufacturing technologies of its partner companies. Europlacer was represented during the workshop. The company's systems were discussed and the iineo was demonstrated. New Technologies used Europlacer demo boards to show the system's capabilities.



"The main product we highlighted from Europlacer was the iineo," said Anton Garanin of New Technologies Ltd. "We saw high levels of interest from the workshop attendees and we hope to start getting orders soon." The iineo platform features many enhancements to the Europlacer machine range such as a higher feeder count, increased board size and increased maximum component height. The platform uses the company's proven core features, including turret head, intelligent feeders, powerful software – while introducing technologies such as linear motors and digital cameras.  Additionally, the iineo is widely configurable, allowing for numerous different possibilities.



During the workshop and the exhibition, attendees received Russian-language versions of Europlacer's most recent equipment catalogue. New Technologies also showed videos on the TV panel in its booth and gave a 3-D AOI presentation.



For more information about New Technologies Ltd., contact Anton at 197343, Russia, Saint-Petersburg, Lanskoe Freeway 14; +7 (812) 448-53-24; Email: garanin@tecnew.ru; Web site: http://www.tecnew.ru.



About Europlacer

Europlacer became a division of Parable Trust Ltd. in 2013. Europlacer has been developing machines for SMT electronics assembly since the 1970s and invented the intelligent feeder concept in the 1980s. After acquisition by Blakell Europlacer in 1991, the company moved away from split-axis to the inherently more capable X-Y architecture that underpins the company's pick-and-place machines today. Europlacer's policy has been to ensure wherever possible that technology purchased many years ago, especially feeders, remain compatible with the latest pick-and-place equipment. Europlacer designs and manufactures a comprehensive range of highly flexible SMT pick-and-place systems for the global electronics industry. For more information, visit Europlacer's Web site at www.europlacer.com.





More from Architectural & Civil Engineering Products