New TBC-92 Slurry Pump from GIW is Ideal for Mining Industries
Press Release Summary: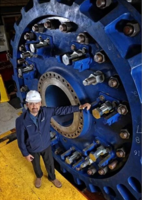 Designed to handle heavy-duty slurry transport while providing low total cost of ownership
Features long-lasting suction liner that can be adjusted without needing to shut the pump down
Used for operation in oil sands and weighs 209,000 lbs.
---
Original Press Release:
GIW Launches the TBC-92, the Largest Slurry Pump in the Oil Sands
The TBC-92 is the first pump of its size used in the mining industry.
GROVETOWN, GA. (December 10, 2019) — GIW Industries, Inc., leader in the design, manufacture, and application of heavy-duty centrifugal slurry pumps has launched the GIW® TBC-92 slurry pump for operation in the oil sands. Named for its 92-inch impeller, the TBC-92 is the largest and heaviest slurry pump available in the mining industry and emerges as the latest in a line of powerful high-pressure pumps offered by GIW.
The installation of the TBC-92 marks an important milestone: GIW now has pumps in service at all operating Canadian oil sands hydrotransport applications. The TBC-92 is designed to tackle heavy-duty slurry transport while providing a low total cost of ownership. Minimal labor and maintenance time helps to maximize production and profit.
"This pump incorporates lessons learned over the years from operating in the oil sands, and features our latest hydraulic and wear technologies," said GIW Business Development Manager Mollie Timmerman. "Because this is the heaviest TBC pump we have ever designed, particular attention was given to maintainability, as well as material selection and construction of the pressure-containing components," said Ms. Timmerman.
The TBC-92 combines the best elements of the products that preceded it. The design incorporates many elements from the TBC-84, also known as the "Super Pump," and adds features from GIW's cutting-edge MDX product line, which is used in heavy-duty mining circuits throughout the world of hard rock mining. "The client needed a higher-capacity pump than was currently available on the market, the TBC-92 pump is the best solution for maximized production," said Ms. Timmerman.
In total, the TBC-92 weighs about 209,000 lbs. — roughly equivalent to a fully-loaded Airbus A321 plane — with a casing that weighs 34,000 lbs. by itself. For ease of maintenance, customers receive custom lifting devices to facilitate safe removal and installation of wear components. The pump also features a long-lasting suction liner that can be adjusted without needing to shut the pump down.
"We're all about customer focus from concept to operation," said Ms. Timmerman. After the pump is installed, customers will enjoy the services of dedicated site account managers, who will work hand-in-hand with them throughout the startup process. This commitment to customer support extends into maintenance planning, parts stocking, system analysis, and training. Local services and spare parts supply will be based out of GIW's Ft. McMurray Service Centre.
KSB and GIW® Minerals
GIW Industries, Inc., headquartered in Grovetown, Georgia USA, is a subsidiary of global pump and valve manufacturer, KSB SE & Co. KGaA of Germany. GIW supplies slurry pumps worldwide in mining, oil sands, aggregates and dredge industries. GIW boasts 125 years of experience in pumps and hydraulic design, and is renowned for their reliable heavy duty slurry pumps and slurry transport technology.
Through the GIW® Minerals product brand, KSB strives to be an innovative partner that provides you with solutions to maximize the performance and efficiency of your pumps and systems. At GIW, your success is our priority. www.giwindustries.com
Media contact:
Meilin Ruiz
Brand Manager
GIW Industries Inc.
+1 706.863.1011
[email protected]