New T-Flex Radiation Shielding Materials are Rated to 350 degrees Fahrenheit Temperature
Press Release Summary: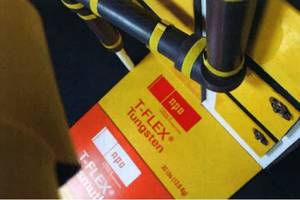 T-Flex® Radiation Shielding Materials is used for protecting small bore pipes, elbows and valves and is offered in blankets, ribbon wraps, pipe shields, floor tiles, magnetic tiles formats. The product can be easily installed using slip-over-the component and integral fasteners and/or magnets.
---
Original Press Release:
T-Flex® – A Non-Lead Shielding Alternative
Introducing the T-Flex® Shielding range – a line of new radiation shielding materials, that will save you time and reduce installation frustration! No longer compromise on shielding effectiveness when protecting those difficult to access areas. T-Flex® Shielding is the industry's preferred non-leaded shielding alternative. It provides maximum shielding effectiveness while still keeping the weight to a minimum, allowing you to reach your advanced ALARA program goals.
Flexible & Customizable
With the flexibility and customizable quality of this innovative new product, you can protect areas such as small bore pipes, elbows and valves with ease. Additionally, it comes in an array of formats including blankets, ribbon wraps, pipe shields, floor tiles, magnetic tiles and a multitude of molded flexible or rigid shapes. Not only this, but we offer Tungsten, Bismuth and Iron attenuating materials for your specific requirements.
Efficient Installation
Increased efficiency improves both time and cost savings to advance your company's competitive edge. Spend less time installing this product with the "slip-over-the component" feature and integral fasteners and/or magnets. Work within any space with its capability to mold it to any shape and easily cut it for specific adjustments. These features allow you to provide shielding close to the source, no matter the space.
T-Flex® is rated for continuous use up to 350°F/176°C and comes in a variety of formats as well as customizable options for your specific requirements:
Ribbon Wrap
Floors
Pipes
Magnetic
Dry Cask
Laboratory
Blankets
Custom
Learn more about each of these products on our website to find out which work best for your requirements then obtain a free, no-obligation quote.
MarShield have over 38 years of expertise and continues to lead the field in manufacturing, custom design, and innovation of leaded and lead alternative shielding solutions. To discover more about our custom radiation shielding products visit our website or contact the MarShield team at sales@marshield.com or (800) 381-5335.
Contact This Company Download Spec Sheet
More from Architectural & Civil Engineering Products