Data and Database Management Software
New System Mechanic 18.5 PC Tune-Up Solution Automatically Fixes and Speeds Up PC
Press Release Summary: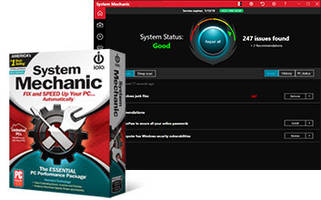 Features an enhanced NetBooster® and a re-introduced Privacy Shield™ that protect personal data at an all-time high
Adjusts hidden broadband setting, locates resource-draining bloatware and checks for internet connectivity issues
Removes Windows® and internet junk and finds browser-stored passwords vulnerable to hacking
---
Original Press Release:
System Mechanic® 18.5 Delivers New Ways to Accelerate Internet Speed
New from iolo technologies, System Mechanic® 18.5 is about options: users can now choose between a new dark-themed skin or the classic light theme, as well as two different ways to analyze the system, with a Quick or Deep Scan, right from the Dashboard. In addition, key enhancements to NetBooster® and a re-introduced Privacy Shield™ enforce iolo's commitment to online security at a time when concerns over protecting personal data are rightly at an all-time high. 
Whether launching System Mechanic as a standalone PC tune-up solution or deploying it from within the total performance, protection and privacy suite Phoenix 360,™ users will enjoy even more of the speed, privacy, convenience, and flexibility they have come to expect.
Choose Deep or Quick Scan depending on how far into the operating system you want System Mechanic to reach looking for new optimizations.
Quick Scan:
Frees trapped RAM for more speed when you need it
Removes Windows® and internet junk that slows you down
Protects your PC by patching security holes
Alerts you of any compromised privacy settings
Finds browser-stored passwords vulnerable to hacking
Checks for internet connectivity issues
Deep Scan does all that plus:
Finds registry clutter that can confuse and slow down the OS
Adjusts hidden broadband settings to unleash even more speed
Locates resource-draining bloatware
Defrags your PC's hard drive for faster application launches
NetBooster offers several new ways to help users achieve the fastest internet speeds.
Turn off up to eight unnecessary Windows services that slow down network speed
Disable bandwidth-hogging Windows Update Delivery Optimization
Automatically retune a dozen TCP settings with brand new recommendations for better streaming, gaming, downloads and more
Adjust the amount of bandwidth Windows reserves for system tasks
Privacy Shield has been re-introduced for Windows 10 users, with brand new features to easily disable the latest, even more, aggressive Windows personal data collection services with just a few clicks.
Turn off Windows Telemetry Services that automatically record many user habits and actions, including memory snapshots, program usage, and system configuration
Turn off intrusive Windows Location Services to prevent your private data from being shared with third-party companies
Disable the SmartScreen Service that collects data on your browsing history and sends it to Microsoft
Disable Windows Feedback Service to prevent Microsoft from seeing even more data about your machine, including which browser you're using, which features you rely on, and which apps are installed
A free version is also available. You can download it at https://www.iolo.com/landing/smfree/.
More from Materials