New SXFive-TACTIS Electron Probe Microanalyzer Can be Controlled Remotely
Press Release Summary: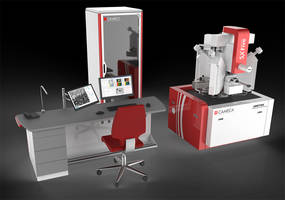 The SXFive-TACTIS Electron Probe Microanalyzer allows user to choose between two tool operation modes (beginner and expert). The unit is equipped with backscattered electron detector, energy dispersive spectroscopy hyper-mapping module. The analyzer is designed for use in trace element analysis in mineralogy, geochronology, ore discovery and nuclear science. It can be controlled remotely using smart phones, tablets or computer.
---
Original Press Release:
Cameca Launches First Electron Probe Microanalyzer with Touch-Screen Interface
GENNEVILLIERS, France – CAMECA, a world leader in scientific instrumentation and metrology solutions, is pleased to announce the launch of SXFive-TACTIS, the newest addition to the CAMECA line of high-end microanalytical instruments, and the only Electron Probe Microanalyzer (EPMA) in the world with a touch-screen interface.
"We are very proud to introduce the SXFive-TACTIS EPMA, which represents the latest evolution in our SXFive product line," comments Sanjay Kamtekar, CAMECA VP Global Marketing. "Developed for a wide range of micro- and nanoanalytical applications, the SXFive-TACTIS is the culmination of our more than 60 years of experience in EPMA technology."
SXFive-TACTIS brings together all the best features of CAMECA's earlier electron probe microanalyzers and innovates with a revolutionary dual interface. It is designed to meet a growing demand from multiuser research facilities for instrumentation that combines highly sophisticated analytical options with extreme ease of use.
With SXFive-TACTIS, users can choose between two tool operation modes. In beginner mode, the instrument configuration and operation, as well as basic imaging and data processing, are made easy thanks to a new, intuitive, touch-screen interface that gives immediate access to a wealth of simplified options. In expert mode, the interface is designed for skilled users who can benefit from a full complement of different tool parameters and software options.
Among the other technological advances of the SXFive-TACTIS are an additional backscattered electron (BSE) detector for enhanced imaging especially at low voltage; a fully integrated energy dispersive spectroscopy (EDS) hyper-mapping module for ultrafast quantitative analysis; and the capability to acquire real-time wavelength dispersive spectroscopy (WDS) and EDS X-ray images. The instrument can be fully remote controlled, allowing users to run experiments from their smart phones, tablets or any remote computer.
"We believe that SXFive-TACTIS will bring EPMA to the fingertips of the widest panel of users ever," concludes Sanjay Kamtekar. "That includes students, postdocs and scientists in academia and engineers and R&D managers in industry. It will help accelerate discovery processes as well as new product development, and thus positively impact global economy and welfare."
The new EPMA platform is available with a W, LaB6 or field-emission source. CAMECA has optimized the performance for challenging microanalytical applications at a sub-micron spatial resolution, extending EPMA capabilities to smaller analyzed volumes. Equipped with high-precision spectrometers for greatest reproducibility, the SXFive-TACTIS delivers the highest quality minor and trace element analysis, addressing the most-demanding analytical tasks in mineralogy, geochronology, ore discovery and nuclear science, as well as research in materials, metals, thin films and semiconductors.
About CAMECA
CAMECA has more than 60 years of experience in the design, manufacture and servicing of scientific instruments for material micro- and nanoanalysis. Since pioneering Electron Probe Microanalysis (EPMA) instrumentation in the 1950s and Secondary Ion Mass Spectrometry (SIMS) in the 1960s, CAMECA has remained the undisputed world leader, while achieving numerous breakthrough innovations in such complementary techniques as Low-energy Electron-induced X-ray Emission Spectrometry (LEXES) and Atom Probe Tomography (APT).
In 2016, CAMECA integrated Nu Instruments, which has strengthened its product offering and technical capabilities in elemental and isotopic mass spectrometry with Inductively Coupled Plasma Mass Spectrometry (ICP-MS), Glow Discharge Mass Spectrometry (GD-MS) and Thermal Ionization Mass Spectrometry (TIMS).
Headquartered near Paris, CAMECA has production facilities in Madison, WI, USA, and Wrexham, UK, as well as sales and service offices in Australia, Brazil, China, Germany, India, Japan, Korea, Russia and Taiwan. CAMECA is a business unit of the AMETEK Materials Analysis Division. AMETEK, Inc. is a leading global manufacturer of electronic instruments and electromechanical products.
Contact:
Marion Chopin
+33 1 433 46250
marion.chopin@ametek.com
More from Communication Systems & Equipment