New SuperSleeve Wall Sleeves Come with Stainless Steel Anchoring Screws
Press Release Summary: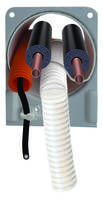 Marketair's SuperSleeve Wall Sleeves are designed for insulated linesets, electrical/communications cabling and condensate drain hose. The 7.5 cm diameter sleeves can be flanged on both ends and telescopes from 15 to 30 cm. SuperSleeve comes with internal positive slope guide, an integral corrugated PVC cable guide for separating electrical/communications wiring from the linesets and drain hose sections and an integral strain relief clamp mounted on the exterior flange. The units accommodate lineset cover brands of 10 cm and larger.
---
Original Press Release:
Marketair Introduces SuperSleeve Wall Sleeve for Time-Saving Mini-Split Evaporator Retrofits
SuperSleeve saves time, job costs and labor on ductless mini-split retrofits
Marketair, Edison, N.J., a leading provider of HVAC/R installation and service accessories/tools for North America, has introduced the SuperSleeve, a sturdy PVC wall sleeve for insulated linesets, electrical/communications cabling and condensate drain hose. The SuperSleeve saves time, money and labor when retrofitting any brand or model of wall-mounted ductless mini-split evaporators in residential and commercial buildings.
Designed and developed by Marketair's engineering department, the patent-pending, SuperSleeve eliminates the need for a second jobsite technician or a temporary support bracket to hold the evaporator in place during a retrofit installation. The 3-inch-diameter (I.D.) (7.5-cm) SuperSleeve is flanged on both ends for a tight, secure fit and telescopes from 6 to 12-inches (15 to 30-cm) to accommodate most wall thicknesses. 
The SuperSleeve design goes beyond conventional wall sleeves and features an innovative integral positive slope guide for the condensate drain hose. Although the sleeve is installed level, the drain hose guide sill ensures a 3/8-inch (9.5-mm) downward pitch away from the evaporator to promote correct drainage. The hose compartment at the bottom of the sleeve holds standard insulated 5/8-inch (16-mm) condensate hose securely in place to ensure the pitch.
 An integral corrugated PVC cable guide hose separates the electrical/communications wiring from the linesets and drain hose sections. An integral strain relief clamp mounted on the exterior flange holds the electrical/communications cable in place and prevents the weight of it from pulling the cable out of the wall during installation.
 The SuperSleeve kit also has an external plastic cap to protect against weather ingress, cover unsightly foam sealants, and present a professional finish when a retrofit doesn't include exterior lineset ducting.
Other SuperSleeve features are:
Accommodates the wall inlet fitting of all lineset cover brands 4-inch (10-cm) and larger;
Installation sequence: 1) interior sleeve half is fitted over the drain hose and lineset, then pushed through the evaporator wall plate and then the wall as the evaporator is clipped into place; 2) exterior sleeve half is slipped into interior sleeve half and anchored to outside wall; 3) electrical/communications cable is inserted through the cable guide hose into the evaporator;
Includes stainless steel anchoring screws
Prevents ingress of insects, rodents and moisture into the wall cavity.
SuperSleeve is available direct or through most wholesale HVAC distributors throughout North America. For more information or to receive a free Marketair HVAC/R products catalog, please visit www.marketair.com, call (732) 985-8226 or email: info@marketair.com.
About Marketair: Originally founded by President Gerry Spanger as a manufacturer's representative company in 1986, Marketair has now reinvented itself as an importer, exporter, manufacturer and distributor specializing in components and accessories for the HVAC industry. Headquartered in Edison, N.J., Marketair has acquired several innovative new products for commercial and residential HVAC applications, covering both the ducted and minisplit (ductless) sectors. Marketair operates as a national distributor for smaller independent U.S. manufacturers. The company has established a national network of manufacturer's representatives through which these products are sold in the HVAC/R industry wholesale distributors. It has aRDo established a centrally-located warehouse for shipping products throughout the U.S.
Contact:
Gerry Spanger 
Marketair Inc.
(732) 985-8226
gerry@marketair.com
John Parris Frantz
JPF Communications Inc. 
JPF Communications Inc.
john@jpfcomm.com
More from Communication Systems & Equipment