New State-of-the-Art Emergency Rescue Elevator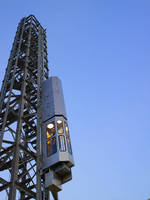 AUSTIN, TX –Tower Elevator Systems, Inc. (TESI) contracted with New Jersey based Liberty Elevator Corporation and Joseph A. Natoli Construction Corporation to design and manufacture a custom, state-of-the-art Emergency Rescue Elevator to replace the existing obsolete system in the Statue of Liberty.  The new rescue elevator was part of the National Park Service project for Statue of Liberty - Life and Safety Upgrades, awarded to Joseph A. Natoli Construction Corporation and the vertical transportation sub-contract awarded to Liberty Elevator.  The project provided extensive Life and Safety Upgrades, including new stairs and elevators to improve safety and emergency egress. Additionally, new mechanical and electrical services provided pressurization and climate control in specified areas of the monument.



"Under the direction of the National Park Service, the Statue of Liberty's interior underwent major Life and Safety upgrades," states Todd Grovatt, President of TESI. "These included installing three new elevators and upgrades to the stairways, bathrooms and electrical and fire suppression systems. TESI's custom Rescue Elevator was a critical part of this project."



"Our system offers unique safety features, including our patented Full Height Hydraulic Rescue Lowering System. This simple-to-operate rescue system allows a stranded rider to self-rescue from any height without stopping to cool the brakes like the old centrifugal systems," states Grovatt.



One of the unique challenges of the project was the limited space available inside of the Statue and the nature of working in a historical structure. This required a highly customized design.



"TESI's gear driven Rack and Pinion technology allows for an elevator to be placed just about anywhere you can mount a hoistway gear rack, minimizing the impact on the support structure," Grovatt explains. "This customer Emergency Rescue Elevator, completed in December of 2012, provides emergency personnel alternate access without having to use the stairs."



TESI has contracted with Liberty Elevator Corporation (LEC) for the emergency elevator portion of the vertical transportation contract. Liberty Elevator was awarded the full vertical transportation contract from general contractor, Joseph A. Natoli Construction Corporation of Pine Brook, NJ.



About Tower Elevator Systems, Inc.



Founded in 2002 by James Tiner, CEO, TESI is a licensed and insured U.S. based manufacturer of industrial Rack and Pinion elevator systems. TESI is devoted to bringing innovation to this very specialized niche market using our "Higher Technology for Safety's Sake" philosophy. Tiner has been involved with industrial construction, service, and manufacturing for over 40 years.



TESI has been awarded jobs from the FAA, U.S. Navy, U.S. Army, Black & Veatch, Alstom, Vogt Power Systems, Audubon Bridge Constructors, Chicago Bridge and Iron, CEMEX and other large organizations. Additionally, TESI has been qualified by Siemens, SEW-Eurodrive and other prominent manufacturers for inclusion of their products into the TESI personnel lifting elevators.



TESI manufactures elevator systems, including UL/CE classified controllers, at their production facility in Austin, Texas. The manufacturing procedures are ASME, AWS, and NFPA/NEC compliant and follow ISO9001 with frequent quality inspections by both customers and suppliers.



The TESI facility is equipped with an 80-foot tall testing tower allowing customers the opportunity to observe full function load and speed testing of their systems prior to shipment.



More from Mechanical Power Transmission