New Spirit Sand Plant Can Handle Fines Recovery and Dewatering
Press Release Summary: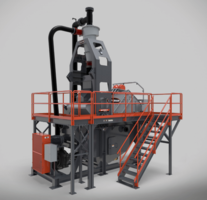 The Spirit Sand Plant consists of Superior Industries' Helix Cyclone, dewatering screen, sump tank, and slurry pump. This combination makes it capable of fines recovery and dewatering in addition to sand production. The plant is available in five models with production up to 300 MTPH (330 STPH) from the screen and is designed to fit inside standard shipping containers. Seven ultra fines recovery models are available.
---
Original Press Release:
Superior to Display New Modular Washing and Classifying Plant at Hillhead 2018
Morris, Minn. – Superior Industries, Inc., a U.S. based manufacturer and global supplier of bulk material processing and handling systems, will display its new modular wash plant at Hillhead 2018 inside stand CE16. Known as the Spirit™ Sand Plant, the flexible plant merges the manufacturer's Helix™ Cyclone, Dewatering Screen, sump tank and slurry pump into a single plant capable of sand production, fines recovery and dewatering.
According to Superior, it's brand new Helix Cyclone is uniquely designed with a geometrically efficient inlet, which proves to boost performance and lower wear to internal components. In addition, all wetted surfaces are lined with cast polyurethane for extended performance and life. For fines recovery applications, the Helix Cyclone is designed and built by Superior in 305-406mm models (12" or 16"). Meanwhile, sand production models are sized 406-762mm (16" to 30").
The manufacture's dewatering screen is capable of removing all but 8% moisture content, meaning the sand produced is immediately sellable. It achieves this due to a deeper bed deign and urethane sidewalls, which remove moisture from the material screens at the tops and sides. These high tonnage dewatering screens process material up to 360 MTPH (400 STPH).
For sand production applications, Spirit Sand Plants are manufactured in five models with production up to 300 MTPH (330 STPH) from the screen. Seven ultra fines recovery models can be fed at rates from 20-161 MTPH (22 to 177 STPH). Each plant is designed to fit into standard shipping containers.
About Superior Industries, Inc.
Superior Industries engineers and manufactures groundbreaking, bulk material handling equipment and cutting-edge components. From its headquarters in Morris, Minnesota, USA, the manufacturing firm supplies bulk crushing, screening, washing and conveying systems for industries including construction aggregates, mining, bulk terminals, agriculture, power and biomass. In addition to its home plant in Minnesota, the 45-year-old Superior operates from additional engineering and manufacturing plants in Alberta, Canada; Arizona, USA; Georgia, USA; Michigan, USA; Nebraska, USA; and New Brunswick, Canada.
Related