New SPARK PRO Features Sterilizability, Rechargeable Batteries and Full Light Intensity Control
Press Release Summary: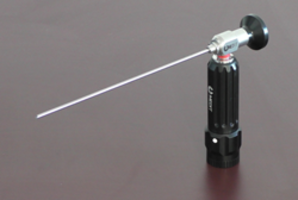 IEC and RoHS compliant light source is powered by one rechargeable battery
Offers compact size, lightweight body and an extended lifetime
Suitable for medical and veterinary use
---
Original Press Release:
New Sterilizable Endoscope Light Source SPARK PRO: Little Bodies have Great Souls
Compact and ergonomic U.S. made LED light handle for rigid and flexible endoscopes. Key features include sterilizability, rechargeable batteries, full light intensity control and LED lifetime of 10 years.
Winnipeg, Manitoba (PRWeb) April 23, 2019
The compact, easy-to-use and versatile SPARK PRO endoscope light sourc e is an autonomous device powered by one rechargeable battery. It takes about 2 hours to recharge it, and the operation time depends on the chosen light intensity. Light output may be changed from 10% to 100%. Based on the chosen output level the operation time on a single battery charge may be between 45 minutes and 3 hours. The light handle is fully IEC and RoHS compliant.
The small-size handheld design of the new SPARK PRO endoscope light handle makes standalone bulky light sources with electrical wires, light bulbs, and long, breakable fiber optic cables running from the main units to endoscopes obsolete. Instead, SPARK PRO offers compact size (103 mm long and 32 mm in diameter), a lightweight body (137g with the batteries included), and an extended lifetime. The batteries are good for around 500 recharge cycles before they need to be replaced, while high quality pure white LEDs are designed to work for up to 10 years.
A distinct feature of the new SPARK PRO endoscope light handle is its sterilizability. As a result, the light source is suitable for medical and veterinary use. Any standard medical grade disinfectant, for example, Sterrad, Sterris and Cidex OPA, is suitable for sterilizing the light source body which can be fully submerged in a sterilizing solution. 
The new SPARK PRO, designed and manufactured in the USA, fits most industrial and veterinary applications, and stands out among competition thanks to its versatility, smart and durable design, and cost efficiency.
Contact Information
Terry Peristerakis
Fiberscope.net by Medit Inc.
http://www.fiberscope.net/
+1 877-613-2210 Ext: 709