New SolaHD SDU AC-B UPS Protect Against All Types of Power Problems
Press Release Summary: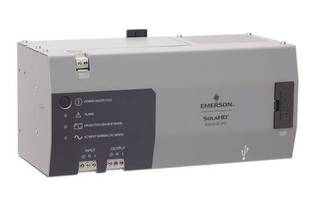 Compact footprint provides design flexibility without compromising protection to critical loads
High heat, field replaceable battery is thermally isolated from internal heat generating elements
Measures only 4.87 x 11.1 x 4.81 inches (HxWxD)
---
Original Press Release:
Emerson Uninterrupted Power Supply Maximizes Machine Availability and Minimizes Unplanned Disruptions in Harsh, High Temperature Industrial Environments
SolaHD SDU AC-B offers optional network communications for advanced control and diagnostics
Rosemont, ILL, May 13, 2021 - As more power-sensitive devices are deployed in automated industrial processes, the need for reliable battery backup power is growing exponentially, yet serious challenges remain in the design of traditional Uninterrupted Power Supplies (UPS). Most UPS are simply too large or heat-sensitive to be installed in control cabinets or to be integrated into machines, and virtually all lack network communications required for remote diagnostics.
To address these challenges, Emerson today launched its SolaHD™ SDU AC-B UPS that combines a compact footprint with a wide operation temperature range, plus offers optional network communications supporting all major industrial protocols. Built rugged for harsh and hazardous locations, the SolaHD SDU AC-B supports organizations by bridging power failures during outages to allow for safe shutdowns of machinery, and by mitigating power quality issues that adversely affect critical loads, therefore minimizing work interruptions, long restart cycles and the loss of data at the point of use.
As a current Emerson customer expressed "We have a hard time selling when we can't keep our datacenter up all the time. One outage is a multi-million-dollar loss along with damage to our Brand. The SDU B-Series avoids these significant losses while reducing our total cost of ownership through advanced battery health checks and user replaceable batteries"
Compact Design
Industrial engineers are facing increasing pressure to find additional space for components on DIN rails within control panels and enclosures, and in OEM machinery such as fabrication tools, robotics and CNC machines. The SolaHD™ SDU AC-B features an exceptionally compact footprint, providing design flexibility without compromising protection to critical loads exposed to power aberrations. Measuring only 4.87 x 11.1 x 4.81 inches (HxWxD), it saves space while protecting against all types of power problems in critical applications that cannot afford downtime, including those requiring ODVA compliance.
Wide Temperature Range
Heat is the enemy of UPS batteries, especially in non-climate controlled environments where elevated temperatures will dramatically shorten battery service life, such as steel mills, petrochemical plants or auto manufacturing. The SolaHD SDU AC-B features a high heat, field replaceable battery rated from 32° to 122°F (0° to 50° C) that is thermally isolated from internal heat generating elements of the UPS. Combined with high-temperature grade components and an advanced battery management system, the SolaHD SDU AC-B adds value and long-term reliability in challenging environments.
Network Communications
As an option, the SolaHD SDU AC-B has an integrated communication port that supports both active and passive modules. Installing an active module is suitable for both general purpose and for high-end applications with large I/O data transfer, fast network cycles and synchronization demands communicating on either EtherNet/IP, Modbus, Profinet or EtherCAT network protocols. Installing a passive module enables control of two relays. In addition, web monitoring is standard on the SolaHD SDU AC-B that remotely displays UPS status, alerts, SMS notification and a historical log.
Ruggedized Engineering
Engineers looking to deploy an industrial UPS in harsh and hazardous locations typically require a customized solution to match their infrastructure needs, which means more time spent on development and higher costs. Being able to withstand extreme environmental conditions, the SolaHD SDU AC-B eliminates the need for customized solutions, while ensuring service continuity and energy quality. It features a rugged metal housing along with a conformal coated PCB for corrosion resistance, plus has extensive ordinary, hazardous and offshore global certifications to operate safely in the presence of flammable gases and vapors.
For information, visit www.solahd.com.
About EMERSON
Emerson (NYSE: EMR), headquartered in St. Louis, Missouri (USA), is a global technology and engineering company providing innovative solutions for customers in industrial, commercial, and residential markets. Our Emerson Automation Solutions business helps process, hybrid, and discrete manufacturers maximize production, protect personnel and the environment while optimizing their energy and operating costs. Our Emerson Commercial & Residential Solutions business helps ensure human comfort and health, protect food quality and safety, advance energy efficiency, and create sustainable infrastructure. For more information visit Emerson.com.
Additional Resources
Contact:
Maya Jordan
Emerson
T: 800-621-1506
maya.jordan@emerson.com
Dan O'Connell
O'Connell Communications
T: 708-363-6118
dan@oconnellpr.com