New Software Update and CE Model Improves Simplicity and Machine Performance for Operators and Managers
Press Release Summary: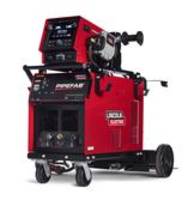 PIPEFAB welding system is integrated with more than 20 language options which enable operators around the globe to select their preferred language choice
Software update includes a variety of weld modes updates, including the highly-anticipated weld mode option for patented HyperFill® twin-wire MIG process
Users can set restrictions to critical weld process parameters such as WFS, amps, volts and start/end weld settings
---
Original Press Release:
Lincoln Electric Unveils New CE Model and Software Updates for The PIPEFAB™ Welding System
New updates enhance system simplicity and control along with expanded equipment options for global markets 
Cleveland, Ohio – Lincoln Electric has expanded the features and capabilities of the PIPEFAB™ Welding System with the launch of new software updates and a CE model. The latest free software update introduces a handful of powerful new process control options that further improve simplicity and machine performance for both operators and managers. In addition, the release of the CE model and expanded language options deliver a truly global solution to meet the needs of pipe and vessel operations around the world.
"This latest update is all about our Ready-to-Run™ philosophy and brings a host of new features that further enhance the value of this already successful product, and with the release of the CE model, we can now deliver it on a global stage." says Sheldon Wray, Product Manager at Lincoln Electric. "We are taking ease-of-use to new heights for operators by providing them with new user interface features that enable them to maximize arc time without having to worry about complicated machine settings. For supervisors and managers, the software updates establish new features for advanced process control that enable a higher level of standardization across their shop floor."
New CE Model
With the addition of a new CE Model to the product line, the PIPEFAB Welding System now offers a dedicated pipe and vessel welding solution that can be used anywhere in the world. Available with the same features and benefits as our current PIPEFAB unit, this CE model provides the necessary certification for European and Australian markets.
Expanded Language Preferences
With the integration of more than 20 new language options, the PIPEFAB welding system ushers in the next generation of machine control. Operators around the globe can now easily select their preferred language choice for unrivaled operator ease-of-use in global markets.
Improved Process Restrictions
Users can now set restrictions to critical weld process parameters such as WFS, amps, volts and start/end weld settings. Options include completely locking down settings to restrict any changes for full process control, or instituting range limits that allow operators to fine-tune settings to their liking, but still within a set Min and Max range. Additional features include adding range limits to external remotes and restricting trigger interlock settings.
Enhanced Memory Functions
With the update, users can access new memory function enhancements, including the new Memory Only mode. This powerful feature allows managers to limit the machine capabilities to only the processes and parameters they have saved, providing additional ease of use and operational process control. Other enhancements include customizing memory names that appear on the screen when the memory is loaded and active.N
New User Access Options
For improved security and quality control, the PIPEFAB Welding System now allows operators to manage machine access through an optional PIN user authentication. Users can set up a supervisor-specific PIN that allows for access to system management options, including managing process restrictions, locking preset memories, and turning the PIN option on or off for operator access.
Expanded Weld Modes
The software update also includes a variety of weld modes updates, including the highly-anticipated weld mode option for Lincoln Electric's patented HyperFill® twin-wire MIG process. Perfect for heavy-wall pipe and vessel applications, HyperFill expands the PIPEFAB's welding capabilities to achieve deposition rates above 18lb/hr. Additional enhancements include optimized Smart Pulse™ performance for stainless steel gas mixtures and new weld modes for stainless steel SMAW.
PIPEFAB™ Remote Interface
Along with the latest PIPEFAB updates, a new PIPEFAB™ Remote Interface accessory has also been released. This rugged, remote pendant provides full system control up to 25 ft (7.6 m) from the power source. Perfect for mechanized applications, the remote duplicates the PIPEFAB interface displays and controls including WFS, volts/trim, process selection, memory selection, feed head toggle, and more.
For more information visit www.lincolnelectric.com/pipefab
Lincoln Electric is the world leader in the design, development and manufacture of arc welding products, automated joining, assembly and cutting systems, plasma and oxy-fuel cutting equipment, and has a leading global position in brazing and soldering alloys. Headquartered in Cleveland, Ohio, Lincoln has 59 manufacturing locations in 18 countries and a worldwide network of distributors and sales offices covering more than 160 countries. For more information about Lincoln Electric and its products and services, visit the Company's website at www.lincolnelectric.com.
Media Contacts:
Janel Hlebak – jhlebak@wearefalls.com or 216.696.0229
Greg Coleman – greg_coleman@lincolnelectric.com or 216.383.2462